I PETER 5:7 KJV
Casting all your care upon Him; for He careth for you.
The apostle Peter wrote these words to the suffering saints of the early church about A.D. 63-64. These were Jewish believers who were experiencing intense suffering, persecution and "fiery trials," not because they were doing something wrong, but because they were living out their faith in humility and righteousness. Peter encouraged them to live above reproach and reflect a spirit of Christ-likeness. Even though their situation could have caused them to worry constantly, he told them, "cast all your anxieties on Him because He cares for you."
All of them? Surely Peter couldn't have really expected those who were being beaten, imprisoned and even killed to stop worrying. But that's exactly what he meant. The Greek text indicates that Peter encouraged them not just to give their worries over to God one by one as they came up, but to make a commitment to cast, or "deposit," their whole future on God and not to worry about what would come. The Amplified New Testament puts it this way, "Casting the whole of your care—all your anxieties, all your worries, all your concerns, once and for all—on Him; for He cares for you affectionately, and cares about you watchfully."
David encouraged the same type of commitment in Psalm 55:22 when he said, "Cast thy burden upon the LORD, and He shall sustain thee: He shall never suffer the righteous to be moved."
If past hurts, disappointments and/or abuse hinder your ability to trust your loving Heavenly Father, please take the time to get to know Him as He really is. Consider a Bible study or some Christian counseling to help you learn to trust the One who loves you far more than anyone else ever could. Don't let that lack of trust keep you in the grips of anxiety.
PRAYER: Lord, help me to learn from and lean on Your faithfulness. Remind me that You will meet my every need and will never leave me, so that I may confidently place my future, all of it, in Your hands.
By Ann Shorb
©Copyright Ann Shorb, 2006
To learn how to have a personal relationship with Jesus Christ go to: www.ccesonline.com/4thingsgodwantsyoutoknow.htm.
For more information on how to grow in your walk with Christ, click: www.ccesonline.com/howtogrowinyourwalkwithchrist.htm.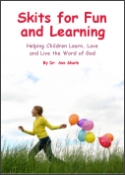 Skits for Fun and Learning
Skits for Fun and Learning is a collection of 15 puppet scripts and 5 articles on the subject of success with puppet ministries. The articles and scripts have been written by Dr. Ann Shorb and the book is available for purchase as a paperback, or as a PDF download.