PSALM 84:11-12
The LORD God is a sun and shield: the LORD will give grace and glory: no good thing will He withhold from them that walk uprightly.  O LORD of hosts, blessed is the man that trusteth in Thee.
There they were, six of them to be exact, three boys and three girls running, laughing, chasing one another.  It was the first time I'd seen them in all these years of parking in this same spot, but definitely not the first time they were there.  Their comfort and familiarity with one another and in that place was obvious.  I sat a few moments reveling in the joy of their childish play.  White puffy clouds drifted through the blue sky as the sunshine enveloped the happy children as they played in their babysitter's lush backyard on that wonderful afternoon.  It was a perfect moment.
What made the difference?  Why did I see these children today when for more than eight years I've been in this same exact spot and had no idea that they were there?  The barrier was down.  Recently a strong gusty storm pulled down the six foot privacy fence that surrounded the parking lot behind our office building.  The wall was gone.  Suddenly it was as if a whole new world opened up before me—backyards with plants, tall grass and flowers, vehicles, lawn decorations, and joyful children that I'd never seen before, all because a wall hid them from view.
Barriers, walls and fences are, at times, a necessary means of protecting myself, but when they've served their purpose they need to come down.  If I leave them in place after the danger has passed, they can actually rob me of blessings, joys and freedom.
Lord, I need Your wisdom for knowing when it's time to take down the protective barriers that I put in place against unhealthy relationships and sinful situations.  Help me to trust You in all of these situations to know when the danger has passed so I don't miss new opportunities for fresh joy and freedom.
Scroll down for helpful resources in dealing with unhealthy relationships.
By Ann Shorb
©Copyright Ann Shorb, 2009
This Week . . .
Coping with Loss and Fighting Depression Seminar
In a time when so many people are losing jobs, marriages are failing, and illnesses rob many of their opportunities and joys, Dr. Ann Shorb from Christian Education and Counseling Services in Hanover, Pennsylvania shares information concerning ways that a Christian can successfully cope with these adverse circumstances. This seminar is helpful, practical, and inspirational.  You will not want to miss it!
April 29, 2009 at 7:00 PM
at First United Methodist Church
200 Frederick Street
Hanover, Pennsylvania
Seminar to be held in the mezzanine.
Contact the church office for more information: 717-637-1574


Boundaries, Hardcover

This best seller, by Drs. Henry Cloud and John Townsend, delivers biblically based methods on how to set healthy limits with a parent, spouse, child, friend, co-worker and even yourself — while still being a loving person. It will leave you feeling empowered without guilt or fear.
Do your "people connections" lift you up or drag you down? If you often make "wrong" choices in love, work, or friendships, you can learn to find people who are good for you! Cloud and Townsend identify traits of untrustworthy people, offer practical strategies for forming healthy associations, and reveal things about yourself that jeopardize relationships. 208 pages, softcover from Zondervan.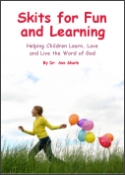 Skits for Fun and Learning
Skits for Fun and Learning is a collection of 15 puppet scripts and 5 articles on the subject of success with puppet ministries. The articles and scripts have been written by Dr. Ann Shorb and the book is available for purchase as a paperback, or as a PDF download.