JEREMIAH 29:11
For I know the plans I have for you," declares the LORD, "plans to prosper you and not harm you, plans to give you hope and a future. (NIV)
This week's devotion is written by Jane Hull.
Nervously I turned the key to my ignition, put my Tucson in gear, and slowly rolled down the driveway.  She was in the back, taking it all in, in complete silence.  I was half praying and half thinking out loud.
"This may not be received well," I muttered.
As I drove on to the scheduled appointment, I kept glancing back at my beloved cat to see what she was doing and wondered what she was thinking.
"How do I try to explain to her that what is about to happen will really, really hurt?"  I thought.  "How do I explain that it isn't a punishment – she didn't do anything to deserve the agony ahead?"
Pulling into the veterinarian's parking lot, I felt such heartache and ambivalence.  And then I said something out loud that felt as if the Holy Spirit was holding a microphone to my lips recording my words for future reference and application.
"I just hope she knows my heart and my love for her.  I would never cause her pain to satisfy something that could be done another way.  Even if I sat down and tried to explain it to her, she wouldn't understand what I am saying or even grasp the picture! And what has to be done now will not improve if I let it go; in fact, it will be worse!  I hope she can trust that what I have set in motion is best for her welfare.  I hope she will love me the same as before.  This nightmare is about to take place, and I realize that even though she may hold me responsible, it's my love for her that is behind this.  Even if she turns away from me later, I will still love her like I did before, and reassure her of that.  There is something much better on the other side of this ordeal."
I wondered how many times God my Heavenly Father has said these very words or some similar words over me . . . or you?
Heavenly Father, help me to trust that You have a future and a hope for me on the other side of whatever difficulties I may face in Your eternal plan.
By Jane S. Hull
Copyright Ann Shorb, 2010
Scripture taken from the Holy Bible, New International Version.  Copyright 1973, 1978, 1984 by International Bible Society.  Used by permission of International Bible Society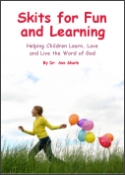 Skits for Fun and Learning
Skits for Fun and Learning is a collection of 15 puppet scripts and 5 articles on the subject of success with puppet ministries. The articles and scripts have been written by Dr. Ann Shorb and the book is available for purchase as a paperback, or as a PDF download.