PSALM 103:11-12 (NKJV)
For as the heavens are high above the earth,
So great is His mercy toward those who fear Him;
As far as the east is from the west,
So far has He removed our transgressions from us.
Today I'm heading west to see my daughter and son-in-law and their family! I live in the east coast region of the U.S. and they live in the mid-west. When I reach my destination, I'll stop; however, if I kept traveling west, I'd eventually wind up back home in the east because there is no point where west ends and east begins. It's not that way with north and south. If I journey north, eventually I'll come to the North Pole and from there I'll go south, no matter which way I move–that is, until I reach the South Pole and from there I'll travel north again. North and south actually have starting and stopping points.
It's interesting, isn't it, that God didn't say He removed our sins as far as the north is from the south? That distance can be measured in miles and in time, and there is a definite point where that occurs. Instead, our loving Heavenly Father said that He placed our sins as far away as the east is from the west. That can never be measured! So if I try to find my sins, I just keep going in circles, like a dog chasing his tail. I'll never be able to grab them again. By His grace, they are gone. Simply gone!
While the consequences of my transgressions linger, the penalty, the guilt, and the shame no longer have to haunt and torment me. I am free to live in the luxurious grace of the King of Kings who pardons and even sanctifies me when I turn from my sin, accept His mercy, and seek His face. How much better if I never sinned in the first place, but what a comfort to know that when I fail, I can turn to Him in humility and genuine repentance, and He will cast those sins away as far as the east is from the west. Praise God, that's forgiveness! That's freedom! That's God's marvelous mercy!
Thank You, Lord, for the fabulous gift of forgiveness and mercy that flows from Your love.
By Ann Shorb
©Copyright Ann Shorb, 2011,
Scripture taken from the New King James Version. Copyright © 1982 by Thomas Nelson, Inc.  Used by permission.  All rights reserved.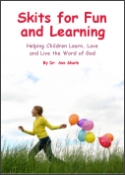 Skits for Fun and Learning
Skits for Fun and Learning is a collection of 15 puppet scripts and 5 articles on the subject of success with puppet ministries. The articles and scripts have been written by Dr. Ann Shorb and the book is available for purchase as a paperback, or as a PDF download.