2 CORINTHIANS 15 (NIV*)
For just as the sufferings of Christ flow over into our lives, so also through Christ our comfort overflows.
I am happy to report that my hand and arm are now in pain. Yes, you read that correctly. After being burned severely in a home fire, the pain that I'm experiencing tells me that the nerves in my hand and arm are regenerating. While the nerves in my arm will probably not work as they did before, healing is underway!
Perhaps you are suffering today, physically or emotionally. Do you understand that the CREATOR of the UNIVERSE made Himself so small that He entered the womb of a young woman and was born into the filth of this fallen world, just so He could relate to us and offer us the opportunity to live with Him forever? It is overwhelming, really. He CHOSE to suffer and thereby He understands our sufferings fully.
He also knows how to bring comfort to us. Our family has been deeply blessed by the outpouring of help from literally hundreds of people in our community since the fire. God has comforted us through others and through their service to us. He has also comforted us in the quiet times we have had alone with Him. As a result, I now have a fuller understanding of how to comfort others.
Jesus, allow the sufferings I have endured to minister to others as Your sufferings have ministered to me.
By Cindi Wilmot
©Copyright 2011, Cynthia L. Wilmot
Read Cindi's previous devotional Too Much Pain.
*Scripture taken from The HOLY BIBLE, NEW INTERNATIONAL VERSION ®. Copyright © 1973, 1978, 1984 by the International Bible Society. Used by permission of Zondervan. All rights reserved.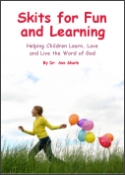 Skits for Fun and Learning
Skits for Fun and Learning is a collection of 15 puppet scripts and 5 articles on the subject of success with puppet ministries. The articles and scripts have been written by Dr. Ann Shorb and the book is available for purchase as a paperback, or as a PDF download.