ROMANS 8:15
For we have not received the spirit of bondage again to fear; but ye have received the Spirit of adoption, whereby we cry Abba, Father.
"What comes into our minds when we think about God is the most important thing about us. For this reason the gravest question before the Church is always God Himself, and the most portentous fact about any man is not what he at a given time may say or do, but what he in his deep heart conceives God to be like," (A. W. Tozer, The Knowledge of the Holy)
Today there are many people living with distorted images of God the Father. Some see Him as a mean bully, a tyrant whose selfish desires rule and control not only his life but the lives of those around him. For others, "father" brings up images of a weak, soft man who lets others control him and fails to speak up when he needs to. For most of us our image of God falls somewhere in between these two extremes. Most often it has been greatly influenced by our relationship with our earthly father and others in authority positions over us.
How do you see God? If you replace your unhealthy views of God with Biblical truth, you'll see Him as a tender Father lovingly caring for His children, yet firmly providing loving discipline for those He cares so much about. In the Bible, He's sometimes called "Abba."
In the days of Christ, "abba" was a term of endearment used by children as they spoke to their father, and it was used by many believers when they prayed. It would be the same as saying "Papa," or "Daddy." What a beautiful relationship to have with the God of the Universe! If you've been born into His family, don't let distorted images of God rob you of the joy of knowing that He is your Abba!
Help me see You as You really are, Father. Get rid of false perceptions and distorted images that keep me from knowing and drawing close to You. Guide me in developing a healthy relationship with You as my loving Abba.
By Ann Shorb
© Copyright Ann Shorb, 2009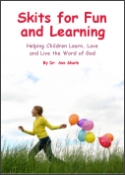 Skits for Fun and Learning
Skits for Fun and Learning is a collection of 15 puppet scripts and 5 articles on the subject of success with puppet ministries. The articles and scripts have been written by Dr. Ann Shorb and the book is available for purchase as a paperback, or as a PDF download.