PSALM 19:1-3 (NKJV)
The heavens declare the glory of God:
And the firmament shows His handiwork.
Day unto day utters speech,
And night unto night reveals knowledge.
There is no speech nor language
Where their voice is not heard.
Words from the grateful heart of Folliott Pierpoint (1835-1917) were joined with the musical arrangement by Conrad Kocher (1786-1872) to create the stately old hymn that has been sung for more than 100 years, "For the Beauty of the Earth". As I read through the words, I can just picture Pierpoint standing on a hilltop surveying the beauty of God's creation around him. As he views the wonder of it all, I imagine him lifting his hands in praise and worship, as he shouts a reverent "Thank You" to the Almighty Creator.
Whatever his position and posture actually were when he penned these words, we know that his heart was kneeling in reverence and awe at the greatness and goodness of the Lord.
FOR THE BEAUTY OF THE EARTH
For the beauty of the earth,
For the glory of the skies,
For the love which from our birth
Over and around us lies,
Lord of all, to Thee we raise,
This our hymn of grateful praise.
For the beauty of each hour
Of the day and of the night,
Hill and vale, and tree, and flower,
Sun and moon, and stars of light,
Lord of all, to Thee we raise,
This our hymn of grateful praise.
For the joy of human love,
Brother, sister, parent, child,
Friends on earth, and friends above,
For all gentle thoughts and mild,
Lord of all, to Thee we raise,
This our hymn of grateful praise.
For Thy Church that evermore
Lifts her holy hands above,
Offering up on every shore
Her pure sacrifice of love,
Lord of all, to Thee we raise
This our hymn of grateful praise.
–Folliott S. Pierpoint,
Pierpoint thanks God for the wonders of creation, for the love of special people in his life, for peace of mind, and The Church around the world. If you were to write a hymn of gratitude to your Lord, what would you include? During this Thanksgiving season, why not write your own song? It's really not that difficult. Start by making a list of the blessings you've received. Your words may not rhyme as poetically as his, but write out the things for which you praise the Lord. Then make up a little tune to sing them—or just use a familiar tune and set your own words to that melody.
Even if you don't feel like you can write your own hymn of grateful praise, you can offer a prayer of gratitude to the Lord. Be sure to take time to do that today.
PRAYER: Heavenly Father, Your blessings are too numerous to count, but I thank You for eyes to see and ears to hear Your goodness and greatness all around me.
WORDS TO PONDER:
"Lord, how Thy wonders are displayed,
Where'er I turn my eye:
If I survey the ground I tread,
Or gaze upon the sky!"
–Isaac Watts, 1674-1748, "I Sing the Might Power of God"
By Ann Shorb
Copyright Ann Shorb, 2014
Scripture taken from the New King James Version. Copyright © 1982 by Thomas Nelson, Inc.  Used by permission.  All rights reserved.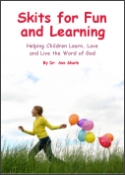 Skits for Fun and Learning
Skits for Fun and Learning is a collection of 15 puppet scripts and 5 articles on the subject of success with puppet ministries. The articles and scripts have been written by Dr. Ann Shorb and the book is available for purchase as a paperback, or as a PDF download.