Philippians 4:19
But my God shall supply all your need according to His riches in glory by Christ Jesus.
Without warning or prelude, Elijah the prophet appeared suddenly on the pages of scripture in I Kings 17. In obedience to God's command, Elijah boldly declared God's wrath before wicked King Ahab and announced that there would be no rain, nor dew for three years upon ungodly Israel. Then the prophet left following God's warning to flee to the wilderness and hide by the brook Cherith.
God used the weeks that followed as a time of training and instruction for His special spokesman, all the while demonstrating His faithfulness. There Elijah found safety and repose. He drank from the brook, and God directed the ravens to bring bread and meat to Elijah every morning and evening. It was for the prophet a place of protection and provision of all that he needed in those days.
My friend, you can be sure of one thing . . . if like Elijah you obediently follow God's direction for your life, He will supply your every need. There is no need that goes unnoticed, no end to what He can do, and no shortage of any resource in His supply. He is God and He is faithful!
Father, when I'm prone to doubt or wonder if You really know and will supply my needs, help me to remember what you did for Elijah in his hour of danger and despair. May I trust You to show Yourself strong in every situation.
By Ann Shorb
Copyright Ann Shorb, 2008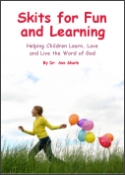 Skits for Fun and Learning
Skits for Fun and Learning is a collection of 15 puppet scripts and 5 articles on the subject of success with puppet ministries. The articles and scripts have been written by Dr. Ann Shorb and the book is available for purchase as a paperback, or as a PDF download.