DEUTERONOMY 33:27
The eternal God is a dwelling place, and underneath are the everlasting arms. (NAS)
When my daughter comes home to visit, I can always count on an adventure.  Her last visit included one I will not forget.  We planned to watch a movie together one evening after I returned from a music practice.  When I arrived home, I found her on the couch waiting for me.  We chitchatted some and she remarked about how much fun my cat had with his new squeaky toy while I was away.
What new squeaky toy? I thought.  Did someone get him a new toy?
She continued to say how life-like the toy was.  Just as I was putting all the pieces together in my mind, my adult son came up from the basement with great urgency exclaiming, "Mom!  There's a live bird down there!
I had this strange feeling that this was not a dream.  As I went downstairs with my kids to assess the situation, I knew movie night was not going to happen.  Suddenly there was a change of plans.
"You mean it was a real bird?" my daughter asked incredulously.  Indeed, it was, and the poor, frightened, exhausted little thing sat trembling on the floor.
The three of us worked as a team to put the cat out of the picture and clean up the mess.  Preparing for the worst, I changed clothes, put on long sleeves, pants and thick gloves, just in case the situation got ugly.  The frazzled bird had lost feathers, but it did not appear to be seriously injured.  I was able to pick it up with my thick gloves without too much difficulty, and my daughter and I headed for the outside.
It was dark outside.  The stars were out.  It was a beautiful summer night.  We thought that if the bird had a chance to just be safe and calm for the night, in the morning it would be stronger.  We decided to make a safe house out of a cardboard box, place bird seed and a dish of water inside, cover it all with a wash basket then set it next to a wall on our patio.  As my daughter assembled this safe house, I stood there, gently holding the exhausted little bird in my cupped hands.  I listened to the sounds of the summer night, and glanced at the stars in the sky.  Gazing down at the terrified little bird I said, "Oh, Little Birdie, if you could just see the strong hands that are holding you . . ."
My voice trailed off and tears began to fall down my cheeks as I realized what I had just said.  The little bird began to relax in my hands, and I knew God had given me a very powerful illustration that I would not soon forget.

Heavenly Father, help us to see by faith the Everlasting Arms that are constantly holding us.
By Jane S. Hull
Copyright Ann Shorb 2008
Scripture taken from the New American Standard Bible.  Copyright 1979 by Thomas Nelson, Inc.  Used by permission.  All rights reserved.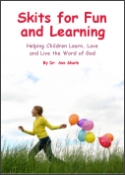 Skits for Fun and Learning
Skits for Fun and Learning is a collection of 15 puppet scripts and 5 articles on the subject of success with puppet ministries. The articles and scripts have been written by Dr. Ann Shorb and the book is available for purchase as a paperback, or as a PDF download.