GENESIS 1:26-27 (NKJV)
Then God said, "Let Us make man in Our image, according to Our likeness; let them have dominion over the fish of the sea, over the birds of the air, and over the cattle, over all the earth and over every creeping thing that creeps on the earth." So God created man in His own image; in the image of God He created him; male and female He created them.
"Where did I come from?" That's a question every person asks himself at some point in life. The truth is that it all started in a garden shortly after an all-knowing, all-wise, all-powerful, everywhere-present God spoke the world into existence. Then He formed man from the dust of the earth and breathed life into him. Later God took a rib from the man and fashioned a woman to walk by his side. That's where you came from. That's where I came from. For all of us, our roots are the same and that is the true source of our identity.
I remember laughing the first time I heard someone say, "God don't make no junk!" There is profound truth in that quirky little saying! Every element of God's creation has value, and in that fact, you and I find our worth.
He, this amazing Creator-God, formed us in His image! Author Elaine Stedman reminds us, "Our concept of God governs our sense of identity and self-worth and our identification with every other person." So when you are feeling down and like you don't matter, when Satan convinces you that you are nobody and have no value, remember your roots. Meditate deeply on the fact that you were created in the image of an all-knowing, all-wise, all-powerful, everywhere-present God and that He loves you unconditionally. If that doesn't life your spirits, nothing will!
Almighty God, I'm astounded to think that I was fashioned in Your image, by Your mighty hand, out of Your love, because of Your longing for fellowship! I can only cry with David the Psalmist, "Such knowledge is too wonderful for me; it is high, I cannot attain it," (Psalm 139:6, NKJV).
By Ann Shorb
©Copyright 2011, Ann Shorb
Related devotionals:
Scripture taken from the New King James Version. Copyright © 1982 by Thomas Nelson, Inc.  Used by permission.  All rights reserved.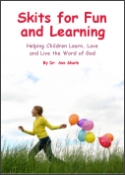 Skits for Fun and Learning
Skits for Fun and Learning is a collection of 15 puppet scripts and 5 articles on the subject of success with puppet ministries. The articles and scripts have been written by Dr. Ann Shorb and the book is available for purchase as a paperback, or as a PDF download.