LUKE 10:34 (NIV*)
He went to him and bandaged his wounds, pouring on oil and wine. Then he put the man on his own donkey, took him to an inn and took care of him.
Wounds and scars are not the same thing. While a scar is a reminder of a healed or healing injury, an open wound has the potential to kill. In the proper setting, broken flesh can heal quickly. A safe, sterile environment with no irritants and much rest go a long way in the healing process. On the other hand, infection can inhibit healing, lead to further scarring and can even kill.
Emotional and relational wounds are similar in that they cannot effectively and quickly heal in the wrong environment. If you are in a relationship that is destructive, it will be a very long and difficult process to find complete health again since those wounds may be re-opened regularly. Is there someone in your life who can act as the Good Samaritan did and help you to a safe place, gently cleansing your hurts and overseeing your care as you recover?
Perhaps you have been hurt in the past and cannot move beyond it. The wounds are still open and have not scarred over. Sometimes you need to seek further help from a friend, a pastor, or a counselor to aid in the healing process. Most of all, you can find complete healing over time in your relationship with the Great Physician.
Father, I lay my hurts and Your feet and seek direction and complete healing.
By Cindi Wilmot
©Copyright 2011, Cynthia L. Wilmot
Read Cindi's previous devotional Living Faith.
*Scripture taken from The HOLY BIBLE, NEW INTERNATIONAL VERSION ®. Copyright © 1973, 1978, 1984 by the International Bible Society. Used by permission of Zondervan. All rights reserved.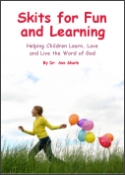 Skits for Fun and Learning
Skits for Fun and Learning is a collection of 15 puppet scripts and 5 articles on the subject of success with puppet ministries. The articles and scripts have been written by Dr. Ann Shorb and the book is available for purchase as a paperback, or as a PDF download.