I THESSALONIANS 1:2-3 (NKJV)
We give thanks to God always for you all, making mention of you in our prayers, remembering without ceasing your work of faith, labor of love, and patience of hope in our Lord Jesus Christ . . .
Last Saturday was moving day and what a sight it was! Family and friends all working together made the transition from one home to another exciting, possible, and very smooth.
The buzz actually started ten days earlier, right after settlement on the new place. That evening we had a pizza party at the condo to develop our "plan of attack" and we started working the next morning. In the ten days time, we managed to take down the wallpaper border in every room (our biggest challenge!), install a new garbage disposal and new kitchen faucet, and hook up the ice-maker on the fridge. In the bathroom, we replaced the light fixture and medicine cabinet, and added another cabinet.  We ran new cable and telephone lines throughout the condo, replaced a broken ceiling fan, installed a new one in another room, and moved the hanging lamp in the dining area. By moving day we repainted the entire place, cleaned the cabinets and closets inside and out, and even washed the windows! We shampooed the carpet in one room, but ripped out tile and carpet and installed wood floors in the living/dining. One friend even made and installed new oak baseboards in every room. The whole place looks awesome!
Meanwhile, friends helped pack and clean out the old house, and gradually moved boxes and organized the new kitchen cupboards. What a flurry of activity! On Saturday when we moved the furniture and boxes, everything just slid right into place. At lunch time there were flowers on the table and a delicious meal for the whole crew. When everyone left later that day, I plopped down on the couch in exhaustion and in sheer amazement! I just kept thinking, "I am so blessed! I am so very blessed! Truly this is the body of Christ working together."
It will be a long time before everything is unpacked and put away, but the new place already feels like home because it's full of warm, happy memories, silly stories of spilled paint and other mishaps, and the joy of the Lord. And it's all because God used dear family and friends working together to make it happen.
Thank you, to each one of you who prayed and/or actively participated in all of this work. I appreciate you more than you will ever know!
God of all Comfort, I'm amazed at the outpouring of love and compassion I've received from Your people! Each one is so precious and so much appreciated. Lord, I pray that You will honor and bless them for the way they honored and blessed me.
By Ann Shorb
©Copyright 2011, Ann Shorb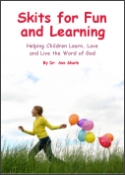 Skits for Fun and Learning
Skits for Fun and Learning is a collection of 15 puppet scripts and 5 articles on the subject of success with puppet ministries. The articles and scripts have been written by Dr. Ann Shorb and the book is available for purchase as a paperback, or as a PDF download.