JOHN 14:26 (NKJV)
Peace I leave with you, My peace I give to you; not as the world gives do I give to you. Let not your heart be troubled, neither let it be afraid.
What a busy week! Keeping up with my counseling work and preparing to move from one home to another has my mind running in 50 different directions. The incredible part, though, is that through all of the hustle and bustle, there is a constant underlying joy and peace that only the Lord can give. What a blessing to see His hand working in my life and to experience not only the outpouring of His love, but that of my dear friends and family. It's just amazing! No wonder the song in my heart this morning is a hymn I learned as a young person:
Wonderful peace
Far away in the depths of my spirit tonight
Rolls a melody sweeter than psalm;
In celestial strains it unceasingly falls
O'er my soul like an infinite calm.
Refrain:
Peace! Peace! Wonderful peace,
Coming down from the Father above;
Sweep over my spirit forever, I pray,
In fathomless billows of love.
What a treasure I have in this wonderful peace,
Buried deep in the heart of my soul,
So secure that no power can mine it away,
While the years of eternity roll!
Refrain
I am resting tonight in this wonderful peace,
Resting sweetly in Jesus' control;
For I'm kept from all danger by night and by day,
And His glory is flooding my soul!
Refrain
And I think when I rise to that city of peace,
Where the Anchor of peace I shall see,
That one strain of the song which the ransomed will sing
In that heavenly kingdom will be:
Refrain
Ah, soul! are you here without comfort and rest,
Marching down the rough pathway of time?
Make Jesus your Friend ere the shadows grow dark;
O accept of this peace so sublime!
Refrain
–W.D. Cornell, 19th century
I pray that today, no matter what you are going through, no matter what challenges you face, that God's peace will sustain you and give you joy.
Precious Lord, every day You shower me with abundant blessings, and one of the most special is the gift of peace that only You can give. Thank You for this wonderful treasure.
By Ann Shorb
©Copyright 2011, Ann Shorb
Scripture taken from the New King James Version. Copyright © 1982 by Thomas Nelson, Inc.  Used by permission.  All rights reserved.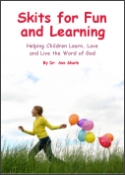 Skits for Fun and Learning
Skits for Fun and Learning is a collection of 15 puppet scripts and 5 articles on the subject of success with puppet ministries. The articles and scripts have been written by Dr. Ann Shorb and the book is available for purchase as a paperback, or as a PDF download.