GENESIS 1:27 AND 31.
So God created man in his own image, in the image of God created he him;
male and female created he them . . . and behold it was very good.
The question of why man exits has been discussed throughout the ages.  Philosophers debate it, poets write of it, musicians herald it, and theologians proclaim it.  The true answer to this perplexing question is clearly and simply stated in the pages of Scripture in both the Old and New Testaments.  We need only look to the Bible for the answer.
1.  We were created in the image of God to reflect His glory.
.  . . I have created him for my glory, I have formed him; yea, I have made him.
–Isaiah 43:7
2.  We were created for His pleasure.
Thou are worthy, O Lord, to receive glory and honour, and power: for
Thou hast created all things, and for Thy pleasure they are and were
created.
–Revelation 4:11
3.  We were made for fellowship/relationship with God and with others.
And the LORD God said, It is not good that the man should be alone, I will make him an help meet for him . . . And they heard the voice of the LORD God walking in the garden in the cool of the day . . . And the LORD God called unto Adam, and said unto him, Where are thou?
–Genesis 2:18; 3:8 and 9
4.  We were made to rule over and take care of His creation.
And God said, Let us make man in our image, after our likeness: and let them have dominion over the fish of the sea, and over the fowl of the air, and over the cattle, and over all the earth, and over every creeping thing that creepeth upon the earth.
–Genesis 1:26
Thou madest him to have dominion over the works of Thy hands; Thou hast put all things under his feet: All sheep and oxen, yea and the beasts of the field; The fowl of the air, and the fish of the sea, and whatsoever passeth through the paths of the seas.
—Psalm 8:6-8
It's obvious as we review these verses that we were created uniquely, deliberately and purposefully.  We're no accident or happenstance!  Let's live each day reflecting His glory and fulfilling His purposes.
Heavenly Father, knowing that You made each one of us as part of Your intentional design makes my heart rejoice. Thank You for the reassurance and motivation that brings to us as Your children.
From our website you can print a copy of this thought for use in your Bible class or for your personal study. Download Why Were We Created? as a PDF.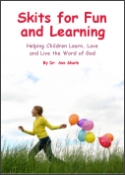 Skits for Fun and Learning
Skits for Fun and Learning is a collection of 15 puppet scripts and 5 articles on the subject of success with puppet ministries. The articles and scripts have been written by Dr. Ann Shorb and the book is available for purchase as a paperback, or as a PDF download.