James 1:9
My dear brothers, take not of this: Everyone should be quick to listen, slow to speak and slow to become angry.
Proverbs 12:15
A fool thinks he needs no advice, but a wise man listens to others.
The couple sat across from me sharing their story of a needless argument that had recently occurred.  They could almost laugh about it as they told me, but it wasn't at all funny when it happened, and it was all because things weren't what they appeared to be. It reminded me of the story below and how quickly a miscommunication can turn things upside down.
"A woman was flying from Seattle to San Francisco. Unexpectedly, the plane was diverted to Sacramento along the way. The flight attendant explained that there would be a delay, and if the passengers wanted to get off the aircraft the plane would re-board in 50 minutes.
"Everybody got off the plane except one lady who was blind. The man had noticed her as he walked by and could tell the lady was blind because her seeing-eye dog lay quietly underneath the seats in front of her throughout the entire flight.
"He could also tell she had flown this very flight before because the pilot approached her, and calling her by name, said, 'Kathy, we'll be in Sacramento for almost an hour. Would you like to get off and stretch your legs?'
"The blind lady replied, 'No thanks, Captain, but maybe Buddy would like to get out.'
"All the people in the gate area came to a complete standstill when they looked up and saw the pilot walk off the plane with a seeing-eye dog! The pilot was even wearing sunglasses. People scattered. They not only tried to change planes, but they were trying to change airlines!" (Original source of story unknown)
Beware of making snap judgments and acting accordingly!  You may be responding appropriately to what you think you heard, but what you heard may not be accurate.
Ask the Lord to help you take that critical moment to stop and think, "What else could it be?  What other possible explanation could be behind this situation?"  Remember, be quick to listen, slow to speak.
By Ann Shorb
© Copyright Ann Shorb, 2010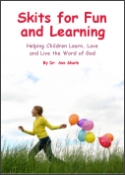 Skits for Fun and Learning
Skits for Fun and Learning is a collection of 15 puppet scripts and 5 articles on the subject of success with puppet ministries. The articles and scripts have been written by Dr. Ann Shorb and the book is available for purchase as a paperback, or as a PDF download.