There are many stories told about Robert E. Lee, famous general in the American Civil War. Most of them have to do with his outstanding military career, but it's interesting to note that he took seriously not only that role, but he also saw his importance as a dad. Lee was the father of three boys and four girls.
One wintry day, Lee and his young son, the eldest boy in the family, were walking through the snow. When the father realized his son was no longer by his side, he turned to see where the son was. What General Lee saw when he looked behind him caught his attention. Step by step, the young boy carefully placed one foot after the other in his father's footprints following his every step.
As he recounted the story, Lee said, "When I saw this, I said to myself, 'It behooves me to walk very straight when this fellow is already following in my tracks.'"
That incident pointed out to General Lee a truth that we all need to heed. Are you a parent or grandparent, a leader, a worker, a friend, a neighbor? No matter what your current role in life, of one thing you may be sure, someone is watching you. You may not be aware of it, but there are eyes observing your every step in life. Will you walk in integrity and truth? Injustice and right living? In kindness and faithfulness? What will those eyes see in your life?
PRAYER: Precious Lord, guard my mind and guide my feet so that I may live each day as an example to follow.
WORDS TO PONDER: "Let everything you do be done as if it makes a difference."
–William Jame
By Ann Shorb,
copyright Ann Shorb, 2015.
Scripture taken from the New King James Version,. Copyright 1982 by Thomas Nelson, Inc. Used by permission. All rights reserved.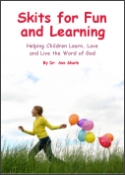 Skits for Fun and Learning
Skits for Fun and Learning is a collection of 15 puppet scripts and 5 articles on the subject of success with puppet ministries. The articles and scripts have been written by Dr. Ann Shorb and the book is available for purchase as a paperback, or as a PDF download.