EPHESIANS 5:8-10
For ye were sometimes darkness, but now are ye light in the Lord: walk as children of light: (For the fruit of the Spirit is in all goodness and righteousness and truth;) Proving what is acceptable unto the Lord.
It's a beautiful day to go for a walk—the sun is shining yet the air is cool and a gentle breeze is stirring. In a physical sense, we want to walk when the weather conditions are right; but in the spiritual realm walking is a daily occurrence. In the book of Ephesians the word "walk" refers to our lifestyle. It's what we do and how we live every day.
The Apostle Paul tells believers to walk as children of light, then sums up what that means by saying that it's really living in goodness (kindness), righteousness (moral integrity), and truth (sincerity and genuineness). All of these are the fruit of the Holy Spirit as we allow Him to work in our life, and they reflect the love of God which is given to us through the Lord Jesus Christ.
Bible scholar J. Vernon McGee puts it this way, "This is to be our walk seven days a week—not only on Sunday. And it means twenty-four hours of those seven days and sixty minutes of every hour." Truly walking as children of light is living under the control of the Holy Spirit, step by step and moment by moment.
For a deeper study, read Ephesians chapters 4, 5 and 6. You'll get a much fuller meaning of what it means to walk as children of light. These verses will challenge your heart and give you specific direction on how to walk in goodness, righteousness and truth.
Lord Jesus, help me to daily reflect the light of Your love to the world around me. Help me to be so controlled by Your Spirit that kindness, morality, genuineness and sincerity just naturally flow from me.
By Ann Shorb
© Copyright Ann Shorb, 2009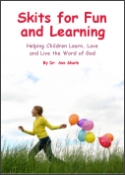 Skits for Fun and Learning
Skits for Fun and Learning is a collection of 15 puppet scripts and 5 articles on the subject of success with puppet ministries. The articles and scripts have been written by Dr. Ann Shorb and the book is available for purchase as a paperback, or as a PDF download.