PSALM 40:1
I waited patiently for the LORD; and He inclined unto me, and heard my cry.
HEBREWS 6:15
And so, after he had patiently endured, he obtained the promise.
Often when God says, "Wait! It's not time yet," my heart cries, "How can I stand still and do nothing? Wait? What benefit will there be if I wait instead of moving ahead now?"
Every day brings opportunities to wait and it's something most of us don't do well. If we have put our trust in Christ and been born into His family, then we can wait for our loving Heavenly Father to work because we know He is faithful and will do what He has promised to do. Waiting for the right person to marry . . . waiting and staying pure until he/she does come along . . . waiting for a spouse to give up an addiction . . . waiting for a change in a job situation . . . waiting for a wandering child to make right choices . . . waiting for God to do SOMETHING to change the situation . . . So often we find ourselves waiting, just waiting.
In those moments when waiting seems uncomfortable or even impossible, remember that it isn't time wasted, nor has God abandoned you. Be patient because . . .
God is All-knowing so He sees the end from the beginning and has a plan for every situation. "For I know the thoughts that I think toward you, saith the LORD, thoughts of peace, and not of evil, to give you an expected end," (Jeremiah 29:11).

God is All-loving and will only allow that which is for your good as you seek Him. "And we know that all things work together for good to them that love God, to them who are the called according to His purpose. For whom He did foreknow, He also did predestinate to be conformed to the image of His Son, that He might be the firstborn among many brethren. . . Who shall separate us from the love of Christ? Shall tribulation, or distress, or persecution, or famine, or nakedness, or peril, or sword? As it is written, For Thy sake we are killed all the day long; we are accounted as sheep for the slaughter. Nay, in all these things we are more than conquerors through Him that loved us.
"For I am persuaded, that neither death, nor life, nor angels, nor principalities, nor powers, nor things present, nor things to come, Nor height, nor depth, nor any other creature, shall be able to separate us from the love of God, which is in Christ Jesus our Lord," (Romans 8:28-29, 35-39.
God is All-powerful so He can and will orchestrate your circumstances according to His perfect timing; whether the change is in the situation or the change is in you, God will create a change somewhere. "Being confident of this very thing, that He which hath begun a good work in your will perform it until the day of Jesus Christ," (Philippians 1:6).
Almighty God, help me always to keep my focus fixed on You and Your greatness, and wait patiently for You to work, knowing that You do all things well.
By Ann Shorb
© Copyright Ann Shorb, 2009
To read more on this topic visit: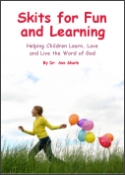 Skits for Fun and Learning
Skits for Fun and Learning is a collection of 15 puppet scripts and 5 articles on the subject of success with puppet ministries. The articles and scripts have been written by Dr. Ann Shorb and the book is available for purchase as a paperback, or as a PDF download.