MICAH 7:7
Therefore I will look unto the LORD; I will wait for the God of my salvation: my God will hear me.
Remember the old photo booths they used to have in the discount stores?  Remember how they work?  You pop in the tiny booth, pull the curtain shut, and adjust the swivel stool to just the right height so that when you sit down your face reflects on the little screen about two feet in front of you.  You push your coins into the slot, and then quickly sit up straight and smile.  SNAP!  Change positions quickly and SNAP!  Change once more and another SNAP!  You move rapidly to a new pose and hear the final SNAP!  Four poses and four pictures.  Then comes the hard part.  You step out of the booth to wait for that little strip of pictures to drop through the slot and into the wire pocket on the side of the booth.  Taking the photos is fun, but waiting those few minutes for the developing is so hard!  It seems to take forever, but sooner or later you know the pictures will come through.
Sometimes when things seem to be moving ahead rapidly in my life and God is obviously working, I hear His still small voice saying, "Wait!"  I'm ready to move on to the next project or plan and God says, No, not now.  That isn't what I want to hear!  I fear that if I wait, the thing will be forgotten.  I worry that putting it off will only allow some obstacle will keep it from happening, and I won't get what I want . . . or by the time I get it, I won't want it.
Over time I've learned that when God doesn't answer my prayers immediately, or when He tells me that it's too soon to take the next step, I must stop looking at my watch and my calendar, and gaze instead into His face.  There I see His expressions of love, truth, mercy, and compassion and I know that He will do as He promised.  Because He is faithful, I can wait knowing that in His own time and His own way, He will accomplish what is good.  Yes, He will come through for me.  Because He is faithful, I can wait.
Lord, when my impatience, immaturity, and impulsiveness are straining to go beyond where I am now, help me to see Your face and remember Your faithfulness, and fearlessly wait for You to work.
By Ann Shorb
Copyright Ann Shorb, 2008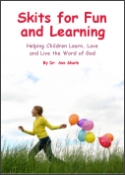 Skits for Fun and Learning
Skits for Fun and Learning is a collection of 15 puppet scripts and 5 articles on the subject of success with puppet ministries. The articles and scripts have been written by Dr. Ann Shorb and the book is available for purchase as a paperback, or as a PDF download.