PSALM 32:10 (NKJV)
He who trusts in the Lord, mercy shall surround him.
Worrying is such an easy thing to do! And I have to admit, battling worry has been my big challenge this week. On Monday, water on my floor led to the discovery that the dishwasher needs to be replaced. I handled that OK—after all, I can live without a dishwasher–but when I got to the office, I found out our phone system went haywire and we were missing calls. Despite multiple efforts to deal with it this week, we still don't have that fixed. On Thursday morning I was told that my broken tooth needs to have a root canal procedure, and then a crown put on. In the afternoon, the mechanic gave me the news that the engine in my car is shot and I need another vehicle.
With all of that, in addition to the normal everyday stuff on my plate, worry just marched right in and took over my thoughts! Finally, I asked myself, "Why do I worry when I know God is in control and will bring me through this?"
In answer to that question, author Jerry Bridges says we worry because we don't believe. "We're not really convinced the same Jesus who can keep a sparrow in the air knows where our lost luggage is, or how we'll pay that car repair bill. Or if we believe He can deliver us through our difficulties, we doubt if He will. We let Satan sow seeds of doubt in our minds about God's love and care for us."
So I have a choice. I can continue to let those seeds of doubt grow, or I can take action to destroy them.
The first thing I must do is take my anxieties to God in prayer. Telling Him my concerns is, for me, an act of placing these issues in His hands.
Then, I get into the Word and read or quote the promises of His protection and provision. There are so many I can cling to!
Next, I recall the many times I've been in tough spots before and He did amazing and unexpected things to meet my needs. Counting the times God came through for me takes my focus off my current worries and brings me great joy.
In addition, I can focus on what is going right in my life and what I do have instead of being caught up in negative thinking.
But most precious to me is remembering that I am not alone. His promise, "I will never leave you nor forsake you," (Hebrews 13:5) gives me peace. God never promised to take all my problems away, but He did commit to always being with me, no matter what my circumstances.
Once I start doing my part, those seeds of doubt are uprooted and peace and joy fill my heart.
PRAYER: Heavenly Father, I need You all the time, but especially in these difficult days. Thank You that I do not face them alone, but in Your love and mercy, You see me through every trial, every stress, and every difficult situation. You are amazing!
WORDS TO PONDER: "Nothing's too big for Him to handle or too small to escape His attention."
–Jerry Bridges, The Pursuit of Happiness
By Ann Shorb
©Copyright Ann Shorb, 2012
Scripture taken from the New King James Version. Copyright © 1982 by Thomas Nelson, Inc.  Used by permission.  All rights reserved.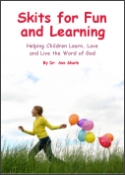 Skits for Fun and Learning
Skits for Fun and Learning is a collection of 15 puppet scripts and 5 articles on the subject of success with puppet ministries. The articles and scripts have been written by Dr. Ann Shorb and the book is available for purchase as a paperback, or as a PDF download.