PSALM 14:1 (NKJV)
The fool has said in his heart, "There is no God."
JEREMIAH 17:7 (NKJV)
Blessed is the man who trusts in the Lord, And whose hope is the Lord.
Every once in a while, I read something that totally intrigues me just because of the way it is written. The following piece is one of fascinating writings for me. Although I'd like to give credit to the original author, I've been unable to locate the name of the one who so brilliantly penned these thoughts. Whoever he or she is, this person is extremely insightful.
Read the entire selection from the top to the bottom. Take a good look at what it says. Then start from the bottom line and read upwards to the top to find a totally different perspective.
An Atheist's View on Life
I will live my life according to these beliefs.
God does not exist.
It is just foolish to think
That there is a God with a cosmic plan,
That an all-powerful God brings purpose to the pain and suffering in the world.
It is a comforting thought, however,
It is only wishful thinking.
People can do as they please without eternal consequences,
This idea that
I am deserving of Hell
Because of sin
Is a lie meant to make me a slave to those in power.
The more you have, the happier you will be,
Our existence has no grand meaning or purpose.
In a world with no God
There is freedom to be who I want to be.
But with God
Everything is fine,
It is ridiculous to think
I am lost and in need of saving.
A Christian's View on Life
(Original Author Unknown)
Isn't that amazing? The author sums up in these few lines two totally different philosophies of life! Which one do you choose to embrace? Are you giving mental assent to that philosophy and living it out so others can see your faith clearly, or are saying you believe one, but living like you believe the other?
Prayer: Lord, help us to be faithful to believing in You and Your Word, and to live it out in such a way that others distinctly she our faith in action.
By Ann Shorb
Copyright Ann Shorb, 2013
Scripture taken from the New King James Version. Copyright © 1982 by Thomas Nelson, Inc.  Used by permission.  All rights reserved.
FREE DOWNLOAD! "Back to School With Success"–Practical tips and resources for parents
Get it here. This brochure can be printed and distributed free of charge to students and parents in your church, school or organization.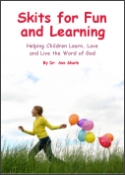 Skits for Fun and Learning
Skits for Fun and Learning is a collection of 15 puppet scripts and 5 articles on the subject of success with puppet ministries. The articles and scripts have been written by Dr. Ann Shorb and the book is available for purchase as a paperback, or as a PDF download.