ECCLESIATES 4:9-12
Two are better than one; because they have a good reward for their labour. For if they fall, the one will lift up his fellow: but woe to him that is alone when he falleth; for he hath not another to help him up. Again, if two lie together, then they have heat: but how can one be warm alone? And if one prevails against him, two shall withstand him; and a threefold cord is not quickly broken.
We were created for relationship both with God and with others. The Bible is extremely clear on that teaching, and nowhere do we find better motivation for developing healthy relationships than in Ecclesiastes 4 where wise King Solomon writes about the blessings of true friendship.
In this passage, Solomon points out three interesting benefits of developing relationships rather than being a loner. First, when you fall (and that could be literally or figuratively) a friend can lift you up. Second, when it's cold a loved one close by can help keep you warm. Third, when another person puts you in danger a true friend will help protect and defend you.
These three examples speak to us of problems we cause ourselves, hardships produced by natural forces over which we have no control, and danger that comes from the bad choices or actions of others. Quite honestly, I can't think of any type of problem that doesn't fall into one of these three categories. Solomon makes it clear that no matter what the source of the problem, a friend can help in difficult times. And after he points out the value of two people being friends, he adds one more note—three are better than two!
So go ahead. Take the risk. Find others that you can connect with through your local church, small groups, or one on one interaction. Don't let the fear of past hurts hold you back. Learn to find safe people and develop healthy bonds. Don't miss out on the blessing of relationships. It's one of God's greatest gifts to you!
Lord, thank You for the incredible friends You have given me. I treasure their words of encouragement, their prayers on my behalf, and their support. Help me to be as good a friend to them as they are to me.
By Ann Shorb
© Copyright Ann Shorb, 2009
Safe People
By Drs. Henry Cloud & John Townsend / Zondervan

Do your "people connections" lift you up or drag you down? If you often make "wrong" choices in love, work, or friendships, you can learn to find people who are good for you! Cloud and Townsend identify traits of untrustworthy people, offer practical strategies for forming healthy associations, and reveal things about yourself that jeopardize relationships. 208 pages, softcover from Zondervan.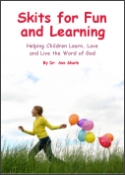 Skits for Fun and Learning
Skits for Fun and Learning is a collection of 15 puppet scripts and 5 articles on the subject of success with puppet ministries. The articles and scripts have been written by Dr. Ann Shorb and the book is available for purchase as a paperback, or as a PDF download.