MATTHEW 5:43-44 (NKJV)
Your Father knows the things you have need of before you ask Him.
My heart sank when I arrived at my office building on Monday afternoon. All around the building all that I could see was pure, white, untouched snow—30 inches of it that the Blizzard of 2016 dumped on us two days before. The sidewalks and parking lot were nowhere to be seen. I was expecting by then that they would have been plowed to clear away the snow so we could open the office the next morning, but it was obvious that the man we hired to do the job had not yet come.
Unable to get in, I drove around the block, parked across the street, and managed to wade through the snow, and enter the front of the building. Ah, the warmth inside felt good, but it was already mid-afternoon, and with the monumental task awaiting me outside, I couldn't linger. I grabbed the snow shovel wondering, "How am I ever going to do this by myself?" but God already had a plan in motion to rescue me.
I knew it was impossible to clear the parking lot, but I determined to do what I could to clear the front porch, steps, and sidewalk. So with a silent prayer for God's help, I lifted one shovelful after another, tossed the snow to the side, and slowly moved down the sidewalk. Thankfully, the air wasn't terribly cold, and the sun shone brilliantly, as is usually does after a storm.
When I looked up, I saw two teenage boys, each with a snow shovel over his shoulder. They were twins, and they were coming my way. You can't imagine how relieved I was when one of them asked, "Ma'am, would you like some help?"
When I accepted their offer, they didn't ask anything in return for their kindness, they just started shoveling. With youthful energy and strength, these young fellows completely cleared not only the front sidewalk, but the back entry way as well, and even sprinkled the ice melt around to finish the job. I thought for sure they were angels sent from God to help me out of my predicament.
Twin angels! That's what Austin and Anthony were to me in that moment. They were enthusiastic, polite, and incredibly helpful. As we talked, I discovered they had just finished helping their dad clear five-foot drifts of snow off the roof of a business just down the street, yet they didn't hesitate to take on another big job by helping me.
There have been many times in my life when God put just the right person in my path to help me in a time of need, but this was a new experience for me. This was the first time He ever sent twin angels to my rescue!
PRAYER: You never fail me, Lord! No matter what the need, You have a plan to get me through even the most impossible-looking situations. Before I even ask for Your help, You have the whole thing under control. Thank You for sending these two young men my way when I was struggling with the snow. Bless them richly for their kindness, and bless their Mom and Dad, too, for doing such a good job of parenting!
WORDS TO PONDER: The smallest good deed is better than the grandest good intention.
–Duguet
By Ann Shorb,
©Copyright Ann Shorb, 2016
Scripture taken from the New King James Version. Copyright © 1982 by Thomas Nelson, Inc.  Used by permission.  All rights reserved.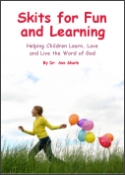 Skits for Fun and Learning
Skits for Fun and Learning is a collection of 15 puppet scripts and 5 articles on the subject of success with puppet ministries. The articles and scripts have been written by Dr. Ann Shorb and the book is available for purchase as a paperback, or as a PDF download.