ISAIAH 50:1,10 (NKJV)
Thus says the LORD . . .
"Who among you fears the LORD?
Who obeys the voice of His Servant?
Who walks in darkness
And has no light?
Let him trust in the name of the LORD
And rely upon his God."
In a world that's uncertain and frightening, it seems that more than ever people want to know what's ahead. We watch the news, read books, and talk to advisors because we want to plan and prepare for the future. Instead of being reassured, though, many times we only increase our worry and distress.
For those of us who know the LORD, the answer to our fears rests in God alone. He, our eternally loving, all-wise, all-powerful, all-sufficient Heavenly Father, will be our strength and sufficiency in every situation, if we lean on Him.
In Pearls of Great Price: 366 Daily Devotional Readings Joni Eareckson Tada, a lady who has faced tremendous obstacles in life, gives a simple but solid reminder of this certainty.
"Our insistence upon discerning what's up ahead is natural, but it is a hindrance to real faith. It's why God constantly encourages us to trust him in the dark (Isaiah 50:10). True faith means resting in who God is. He has charged himself with full responsibility for your eternal happiness, and he stands ready to take over the management of your life. He is wise and good. Trust him with what's ahead."
Don't let doubt and fear hinder your faith in Him. Daily meditate on at least one of His attributes. Find strength in His Word and hope in His promises.
PRAYER: Almighty God, give me give me faith to believe that You are all sufficient. Open my eyes to see Your hand at work behind the dark clouds that at times overshadow me. Grant me Your peace and a spirit of rejoicing in all things.
WORDS TO PONDER:
"We may trust Him fully
All for us to do.
They who trust Him wholly,
Find Him wholly true.
–Frances Havergal, "Like A River Glorious"
RELATED DEVOTIONALS:
By Ann Shorb
©Copyright, Ann Shorb, 2016
Scripture taken from the New King James Version. Copyright © 1982 by Thomas Nelson, Inc.  Used by permission.  All rights reserved.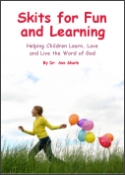 Skits for Fun and Learning
Skits for Fun and Learning is a collection of 15 puppet scripts and 5 articles on the subject of success with puppet ministries. The articles and scripts have been written by Dr. Ann Shorb and the book is available for purchase as a paperback, or as a PDF download.