JOHN 16:33 (NIV*)
I have told you these things, so that in me you may have peace. In this world you will have trouble. But take heart! I have overcome the world. 
One of the great troubles in this world is PAIN. Emotional pain and physical pain sap our energy, discourage us and can cause us to take our focus off of the Lord. Each of us has experienced pain at some point in our lives and can attest to the fact that pain is trouble! At the same time, pain is what tells us that something is terribly wrong.
On May 7, 2011, I was severely burned in grease fire in our kitchen. With second and third degree burns over 12% of my body, I was in serious pain. At the same time, the burns on my arm and hand, which were the worst, did not hurt. That was because the damage was so severe that the nerves were not working.
The same thing can happen to us emotionally. When we experience severe tragedy or heartache, sometimes our emotions shut off. It is a mechanism God sometimes gives us to cope and survive in a crisis situation, yet the struggle comes when the shut down lasts too long or we lose our compassion or emotions entirely.
I am happy to share that my hand and arm are now in pain. It means that healing is taking place and that the damage was not so horrible that my functioning will be impaired permanently.
Look at the difficult situations in your life . . . are you healing? Or are you allowing those situations to impair you permanently? In Mark 2:17, Jesus refers to Himself as a physician. Allow Him to help permanently heal your hurts.
Lord Jesus, thank You for knowing me completely and for being able to bring complete healing to my body and heart.
©Copyright 2011, Cynthia L. Wilmot
Read Cindi's previous devotional Wounds vs. Scars.
*Scripture taken from The HOLY BIBLE, NEW INTERNATIONAL VERSION ®. Copyright © 1973, 1978, 1984 by the International Bible Society. Used by permission of Zondervan. All rights reserved.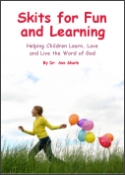 Skits for Fun and Learning
Skits for Fun and Learning is a collection of 15 puppet scripts and 5 articles on the subject of success with puppet ministries. The articles and scripts have been written by Dr. Ann Shorb and the book is available for purchase as a paperback, or as a PDF download.