MATTHEW 11:28-30 (KJV)
Come unto me, all ye who labour and are heavy laden, and I will give you rest. Take my yoke upon you, and learn of me; for I am meek and lowly in heart: and ye shall find rest unto your souls. For my yoke is easy, and my burden is light.
It's just a week until Christmas! Everyone is scurrying around decorating, shopping, baking, traveling. There's so much to be done; so little time to do it. Just yesterday someone said to me, "I always intend to start earlier so this doesn't happen, but it seems I'm even too busy then to get a head start on Christmas!"
"Too busy." It's the plague of the American society. We rush and hurry, bustle and scurry and life feels like nothing more than a treadmill of getting things done. Sadly we find that our list of things to do is never any shorter.
Have you ever thought about the fact that the very Christ who created time actually stepped into it when He took on human flesh and was born on earth? Truly His life is an example of how to use time wisely and well. Never once do we see Him in a hurry. There's absolutely no record of Him rushing around. He was never late, although it may have appeared that way to others. His timing was always just right because He walked each moment in the will of the Father and in the power of the Spirit. What an example!
The amazing thing to me is that through His Word and His Spirit, Christ makes it possible for me to live in the same manner. When I do get weary and I feel burned out, He graciously says, "Come unto me and I will give you rest."
In the busyness of this Christmas season, I encourage you to deliberately find some time to spend alone with the Savior. Clear your mind, read His Word, and meditate on what it says to you. Allow His Spirit to calm your soul, refresh your spirit, and find His rest. And then as you start the new year, make it a habit to follow His example so the words "too busy" no longer rule your life.
God of Glory, thank You for sending Christ to be my Savior and also my example. Let me learn from Him how to live each day walking in Your will and in the power of Your Spirit.
By Ann Shorb
©Copyright Ann Shorb, 2011,
Scripture taken from the New King James Version. Copyright © 1982 by Thomas Nelson, Inc.  Used by permission.  All rights reserved.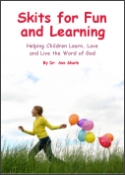 Skits for Fun and Learning
Skits for Fun and Learning is a collection of 15 puppet scripts and 5 articles on the subject of success with puppet ministries. The articles and scripts have been written by Dr. Ann Shorb and the book is available for purchase as a paperback, or as a PDF download.