JOHN 17:17 (KJV)
Sanctify them through Thy truth: Thy word is truth.
My friend Val sounded hopeful as she told me about her upcoming eye surgery. "For ages I've been frustrated because I just can't see clearly.  I finally got new glasses, but even that was upsetting because no matter how many times I wiped them, I just couldn't seem to get them clean.  Finally, my doctor told me that my glasses aren't the problem.  It's my eyes.  Cataracts are clouding my vision.  Once they are removed from my eyes, the doctor will implant new lenses, and I should be able to see clearly again.  What a relief that will be!"
Not being able to see clearly effects us greatly, and that's not only true in the physical realm, but in our spiritual lives as well.  When we view life through a clouded lens, things are unclear and uncertain, misperceived, inaccurate, and even dangerous. So many things can cloud our vision of truth—our own imperfections, past events and hurts, our personal preferences, human wisdom, selfishness, pride, envy, fear, etc.  When these are the lens through which we look, life is distorted and our judgment is faulty.
Shortly before His death, Christ prayed for His disciples, both those living at that time, and those who would follow Him in the future. He prayed for their unity, their protection, their joy and their sanctification knowing that all of these are rooted in truth, and that this truth is found only in God's Word (John 17).  Only as I view life through the lens of God's Word will I find truth and be able to live according His will and His way.
Heavenly Father, I ask You to remove from my eyes everything false and help me see clearly through the lens of Your truth so that I may walk in Your way and find peace and rest.
© Copyright Ann Shorb, 2010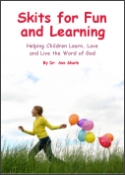 Skits for Fun and Learning
Skits for Fun and Learning is a collection of 15 puppet scripts and 5 articles on the subject of success with puppet ministries. The articles and scripts have been written by Dr. Ann Shorb and the book is available for purchase as a paperback, or as a PDF download.