PROVERBS 3:5-6 (NKJV)
Trust in the LORD with all thine heart; and lean not unto thine own understanding.  In all thy ways acknowledge Him, and He shall direct thy paths.
The voice on the phone sounded frantic when Jane, our administrative assistant, answered the call.  One of our newer clients was trying to find her way to our office and be on time for her counseling appointment.  Although she had been here before, this time she was trying to find it on her own—and she was lost.
"I'm sitting in the parking lot of an insurance office!" she exclaimed.  "Where are you?  How did I get here?"
The dear lady borrowed a book from our library when she came for her first appointment and had it on the car seat next to her as she drove up for her second visit.  Being unsure of where she was, she opened the book, found our address on the front page, and typed the location into her GPS to direct her to our office.  The problem wasn't that the GPS didn't work properly; it was that the address in the book was our old address!  It was an older book and we failed to put a new address sticker inside when we moved several years ago.  She was headed to the wrong destination.
In The Principle of the Path, author Andy Stanley vividly points out that ". . . in every area of life, we are moving in a specific direction toward a specific destination."  Our choices take us each step of the way and sooner or later we wind up wherever we have been headed.  "Direction determines destination."
Although my intentions and my determination are important, if I'm headed the wrong direction, I'll wind up at the wrong destination.  Only setting my focus on the right destination, and taking each step in that direction will get me where I want to go.  Each choice I make, then, becomes an intentional step toward my destination, or one that leads me away from it; therefore, each choice, each day is profoundly important!
PRAYER: Heavenly Father, help me see clearly the destination You set before me.  Keep my life moving in that direction and that direction only as I follow the light of Your Word and the voice of Your Spirit.
WORDS TO PONDER: "The course you have set relationally, financially, spiritually, and professionally will determine where you end up in each of those respective arenas. This is true regardless of your goals, your dreams, your wishes, or wants . . . Your current direction will determine your destination."
–Andy Stanley, THE PRINCIPLE OF THE PATH
By Ann Shorb
©Copyright 2010, Ann Shorb
Scripture taken from the New King James Version. Copyright © 1982 by Thomas Nelson, Inc. Used by permission. All rights reserved.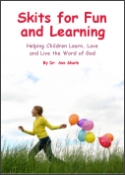 Skits for Fun and Learning
Skits for Fun and Learning is a collection of 15 puppet scripts and 5 articles on the subject of success with puppet ministries. The articles and scripts have been written by Dr. Ann Shorb and the book is available for purchase as a paperback, or as a PDF download.