PSALM 139:14-15 (NKJV)
You formed my inward parts;
You covered me in my mother's womb.
I will praise You for I am fearfully and wonderfully made;
Marvelous are Your works,
And that my soul knows very well.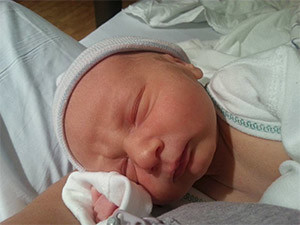 We were surprised when little Devin Micah decided to arrive a bit early. Even though he's grandbaby number seven for me, the wonder of new life never ceases to amaze me and I am reminded that this precious little bundle is truly a gift from God.
As I cradled him in my arms, I marveled at his tiny hands with their long fingers and his handsome features. Each and every part of him is so purposefully created, precisely designed, and perfectly formed that it gives undeniable evidence of an almighty Creator.
Over the years, I've experienced the thrill of standing on the edge of the Grand Canyon viewing the immense grandeur of God's handiwork. I've felt the forceful pounding of the water as it drops from Niagara Falls, and seen the incredible vastness of the Atlantic Ocean and the blueness of Pacific waters. I was astonished as I viewed the uniqueness of the Sahara Desert from the air, and I was spellbound by the magnificence of a sunset near the equator, yet the miracle of this tiny new life outweighs and outshines them all. A new baby is truly the most amazing wonder of all!
Devin Micah, you are a tiny wonder of God's love! Already you've grabbed our hearts and are thrilling our lives.
Prayer: Thank You, Lord Jesus, for Devin Micah and the joy of the new life You have given to our family.
Words to Ponder: "Nothing is more precious than the tiny miracle of a new life beginning. I've been there nine times. Every time it's the same awesome joy and thankfulness for a new life created."
–Phyllis Schwartz, A happy grandmother
Related Devotional:
Amazing Grace for Every Generation, August 1, 2015
By Ann Shorb
©Copyright, Ann Shorb, 2015
Scripture taken from the New King James Version. Copyright © 1982 by Thomas Nelson, Inc.  Used by permission.  All rights reserved.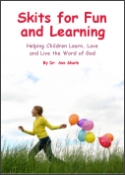 Skits for Fun and Learning
Skits for Fun and Learning is a collection of 15 puppet scripts and 5 articles on the subject of success with puppet ministries. The articles and scripts have been written by Dr. Ann Shorb and the book is available for purchase as a paperback, or as a PDF download.