ROMANS 5:6-9 (NKJV)
For when we were still without strength, in due time Christ died for the ungodly. For scarcely for a righteous man will one die; yet perhaps for a good man someone would even dare to die. But God demonstrates His own love toward us, in that while we were still sinners, Christ died for us. Much more then, having now been justified by His blood, we shall be saved from wrath through Him.
JOHN 19:30 (NKJV)
Jesus, knowing that all things were now accomplished . . . He said, "It is finished!" And bowing His head, He gave up His spirit.
Some stories are just too good to keep to myself. Here's one that I hope will encourage and inspire you.
The Starfish Story
There was once a wise man that used to go to the ocean to do his writing. He had a habit of walking on the beach before he began his work.
He was walking along the shore one day when he saw a human figure moving like a dancer. He smiled to himself as he didn't think anybody would dance on the beach at this time of the day. Hence, he began to walk faster to try and catch up with the person.
As he got closer, he saw that the person was a young man and he wasn't dancing. Instead, he was reaching down to pick up something on the beach every now and then before throwing it into the ocean very gently.
When the wise man got closer, he called out, "Good morning! What are you doing?"
The young man looked up and replied, "Throwing starfish into the ocean."
"Why are you throwing starfish into the ocean?"
"The sun is up and the tide is going down. If I don't throw them in they'll die."
"There are miles and miles of beach and there are starfishes all along it. You can't possibly make a difference!"
The young man listened politely. Then he bent down, picked up another starfish and threw it into the sea, past the breaking waves.
He said, "It made a difference for that one."
You can make a difference in your world! If you take just one step at a time, over a lifetime you will travel miles and miles!
–Copied, Original Source Unknown
Prayer: Father God, use me to make a difference in the lives of those around me. Touch them with Your love. Fill them with Your hope. Use them, then, to touch the lives of others—one by one.
Words to Ponder: "Let's say you share your faith with two people tomorrow. The next day, each of those two people shares it with two others. Then the next day each of those two continues the chain . . . By the end of three weeks 3,145,728 people will have heart the faith story."
By Ann Shorb
©Copyright, Ann Shorb, 2013
Scripture taken from the New King James Version. Copyright © 1982 by Thomas Nelson, Inc.  Used by permission.  All rights reserved.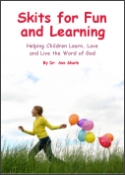 Skits for Fun and Learning
Skits for Fun and Learning is a collection of 15 puppet scripts and 5 articles on the subject of success with puppet ministries. The articles and scripts have been written by Dr. Ann Shorb and the book is available for purchase as a paperback, or as a PDF download.