JOHN 15:5 (AMPC)
I am the Vine; you are the branches. Whoever lives in Me and I in him bears much (abundant) fruit. However, apart from Me [cut off from vital union with Me] you can do nothing.
Mmmm . . . The blueberry muffin I brought home from the store looked and smelled delicious as I placed it in my tin to keep it fresh until morning. I was tempted to eat it right then, but I didn't. It was my special treat for breakfast—and I could hardly wait!
The next day was a special one, and I was celebrating by making a delicious breakfast. The table was set with nice dishes, fresh fruit, and a pot of steeping tea. Finally, I placed the muffin in the toaster oven to heat while I plated my omelet and sausage. I had timed everything carefully so it would all be ready at the same time, but when I reached for my piping hot muffin, it was cold! My heart sank, as I realized the oven was not plugged in–and without the necessary power, it just couldn't do its job.
While this was a disappointment and a temporary delay, I knew the remedy was simple . . . just put the plug in the socket and let the power flow from the electrical current to the heater and all would be well.
How quickly my thoughts flew to the words of Jesus as He instructed His disciples just after their last supper together!
"I am the vine, you are the branches. He who abides in Me, and I in him, bears much fruit; for without Me you can do nothing," (John 15:5, NKJV).
Christ pictured for them their essential need to stay closely connected to Him so that His strength, and all of His life-giving resources, would flow from Him through them. Only then could they do the job He gave them to do and produce an abundant harvest of fruit.
Maintaining that vital union with Christ means spending time alone in His Word, in study, and in prayer. It means listening to the voice of the Holy Spirit who not only guides us, but empowers us to do the job for which we were designed. All this takes time, and intentional planning and effort on our part, but Christ alone is the source of our power for daily living. There absolutely is no other!
PRAYER: O Lord, I need You desperately! Truly You are the source of all my strength. I realize that without You, I can accomplish nothing.
WORDS TO PONDER: "The phrase 'abiding in Christ' pictures an intimate, close relationship, not just a superficial acquaintance."
–Unknown
By Ann Shorb
© Ann Shorb, 2017
Scriptures taken from Amplified Bible, Classic Edition (AMPC). Copyright © 1954, 1958, 1962, 1964, 1965, 1987 by The Lockman Foundation
The New King James Version. Copyright © 1982 by Thomas Nelson, Inc.  Used by permission.  All rights reserved.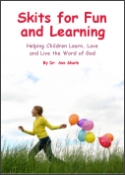 Skits for Fun and Learning
Skits for Fun and Learning is a collection of 15 puppet scripts and 5 articles on the subject of success with puppet ministries. The articles and scripts have been written by Dr. Ann Shorb and the book is available for purchase as a paperback, or as a PDF download.