PROVERBS 3:5-6
Trust in the LORD with all your heart,
And lean not on your own understanding;
In all your ways acknowledge Him,
And He shall direct your paths.
My heart was touched as I listened to the couple's story. The problems they face are intense and anyone would find them heavy, but the real difficulty in this case is that they face so many problems all at once—loss of hopes and dreams, family stress, the ache of moving and leaving dear ones behind, extended family issues, job stress, and financial hardship. Why is it that such bad things happen to good people?
Adversity often comes as a result of natural causes such as physical problems, aging, storms, extreme temperatures, and other natural disasters affect people somewhere on earth every single day. It's all a part of life.
Scripture teaches us that some of the adversity we face is a result of our own bad choices. If we choose to sin or be reckless in making decisions, we'll experience the negative consequences that go with those decisions. Jonah was the perfect example of a man who deliberately disobeyed God and faced intense adversity because of it.
In addition, the actions and choices of other people often create trials and hardships that touch our lives. Hannah was a woman who loved and served God, but taunting jeers from another woman tormented Hannah day and night.
Satan causes some of our problems as he seeks to derail our faith. The story of Job quickly comes to mind when we think of someone who was attacked by Satan. He wants nothing more that to deceive, distract, and discourage those who love God.
And I believe God causes some of our adversity so that we will grow in our faith and become more and more like Christ. The Apostle Paul was given "a thorn in the flesh" so that he would have a humble attitude.
Regardless of the source of our adversity, our peace comes from the awareness that God knows every single detail about what we face, and that He has a plan and a purpose in allowing us to go through it. Our hope rests in knowing that these difficulties are only for a season. Our strength is in knowing that the Lord Himself is with us each step of the way and that He will never leave us. Ahh! What comfort!
Thank You, Lord, for the strength and courage that come from finding Your grace sufficient for every need as we face the trials and hardships that come our way.
©Copyright Ann Shorb, 2010
Scripture taken from The Message, Copyright © 1993, 1994, 1995, 1996, 2000, 2001, 2002. Used by permission of NavPress Publishing Group.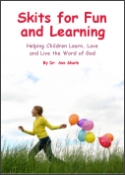 Skits for Fun and Learning
Skits for Fun and Learning is a collection of 15 puppet scripts and 5 articles on the subject of success with puppet ministries. The articles and scripts have been written by Dr. Ann Shorb and the book is available for purchase as a paperback, or as a PDF download.