Isaiah 45:6-7 (NKJV)
That they may know from the rising of the sun to its setting that there is none besides Me. I am the Lord, and there is no other. I form the light and create darkness, I make peace and create calamity; I, the Lord, do all these things.
August 21, 2017 will be a remarkable day in American history as we experience the first total solar eclipse visible in the continental U.S. since 1979! This time, though, the 70-mile-wide path of total blackout will stretch from Oregon diagonally southeast to South Carolina, making it the first time a total solar eclipse has traveled from shore to shore in America since 1918.
Although the duration of totality will be only a second or so in some places along its journey, it will last around two and a half minutes along the center of the path. The moon will completely cover the sun and its atmosphere blocking out all light so that it will look and feel like the middle of the night. Even bright stars will most likely be visible. Areas near this path will experience a partial eclipse with some darkness, and the areas farther away may not notice much out of the ordinary.
There are many different views on what this astronomical event means and how people want to spend their day. Many folks plan to celebrate this event with wild parties without seeing God's hand in it, while others will delight in viewing the eclipse as one of His most striking displays of power and beauty. Some Christians view this dramatic act of nature as a message from God calling for America to repent and turn back to Him. There are believers who also feel this is a fulfillment of Bible prophecy signaling the coming of Christ.
In reality, August 21, 2017, should be no different than any other day for Christ's followers. Every day we should acknowledge as a gift from God, recognize His power and total authority over all of nature, and delight in the beauty of creation around us. And at all times we are called to celebrate His goodness and love as we seek to live righteously before Him.
For more details about the solar eclipse, check out the NASA website: https://eclipse2017.nasa.gov and Answers in Genesis www.answersingenesis.org
PRAYER: Almighty God, we truly thank and praise You for the opportunity to witness Your awesome greatness in this once-in-a-lifetime event. May it stir our hearts to see anew the wonders of your power.
WORDS TO PONDER: "To me, this is the most incredible thing in all of creation."
–Dr. Danny Faulkner, Staff astronomer for Answers in Genesis
By Ann Shorb
©Copyright, Ann Shorb, 2017
The New King James Version. Copyright © 1982 by Thomas Nelson, Inc.  Used by permission.  All rights reserved.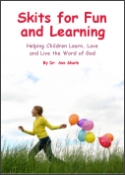 Skits for Fun and Learning
Skits for Fun and Learning is a collection of 15 puppet scripts and 5 articles on the subject of success with puppet ministries. The articles and scripts have been written by Dr. Ann Shorb and the book is available for purchase as a paperback, or as a PDF download.