Proverbs 16:20 (NKJV)
He who heeds the word wisely will find good, and whoever trusts in the Lord, happy is he.
The recipe for true happiness is found in Proverbs 16:20 where we are instructed to trust God, and Him alone, and to obey His word. While that direction is quite simple, it isn't all that easy because our flesh wants security. It wants to know the plan from beginning to end, and it wants to keep us from pain and difficulty along the way.
Trust in God is the key to obeying Him, but that's where we struggle the most. Some even dare to ask, "Why should I trust God? After all, I can't see Him, and I can't hear His voice as I hear the voice of another person. How do I know He's going to keep me safe and lead me in the right direction?"
In addition to knowing we can trust God because He is the great Creator who made all things, (Genesis 1:1-2:7), we can trust Him because He sees and knows all things. Psalms 33:15 (NKJV) reminds us:
The LORD looks from heaven;
He sees all the sons of men.
From the place of His dwelling He looks
On all the inhabitants of the earth;
He fashions their hearts individually;
He considers all their works.
Also we can trust Him because He has a plan for each one of us, and He would never do anything without a purpose, or that is contrary to His plan. Jeremiah 29:11 says;
For I know the thoughts that I think toward you, says the LORD,
thoughts of peace and not of evil, to give you a future and a hope.
God sees the big picture. He has all the pieces of the puzzle of your life and circumstances. He has a plan and it is all about doing good in your life, and using you to bless others and bring Him glory.
If you were going on a safari through territory that is unfamiliar to you, which guide would you follow? Would it be the one with the map showing the entire territory and a plan to go from point A to point B, or would you trust the guide who has only a piece of a map and who is unsure of the route to take?
Remember, my friend, that you and I only have a portion of the map. We see through our own fallible logic, based limited knowledge that is filtered by our past experience, and fearful of the future. Our perception is limited, distorted at times, and selfishly biased toward our own good, not the good of others and the Lord Himself.
If you trust God to know what He's doing, if you lean on Him for wisdom and direction, if you feel confident that His way is best and the way of rewards, then you can obey even when it doesn't make logical sense to you. Trust Him!
PRAYER: Beloved Father, be my guide each hour of every day, and fulfill Your purpose and plan in my life I pray.
WORDS TO PONDER: "But just as God's will is to take precedence over our will ("yet not as I will, but as you will" —Matthew 26:39), so God's honor is to take precedence over our feelings. We honor God by choosing to trust him when we don't understand what he is doing or why he has allowed some adverse circumstance to occur."
–Jerry Bridges, Trusting God
RELATED DEVOTIONALS:
By Ann Shorb
©Copyright, Ann Shorb, 2016
Scripture taken from the New King James Version. Copyright © 1982 by Thomas Nelson, Inc.  Used by permission.  All rights reserved.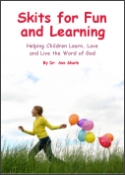 Skits for Fun and Learning
Skits for Fun and Learning is a collection of 15 puppet scripts and 5 articles on the subject of success with puppet ministries. The articles and scripts have been written by Dr. Ann Shorb and the book is available for purchase as a paperback, or as a PDF download.