Proverbs 16:20 (NKJV)
He who heeds the word wisely will find good, and whoever trusts in the Lord, happy is he.
It seems the whole world is looking for happiness. Many people try to find it in wealth and fame, others in relationships or religions, while some look to education or a career to bring them bliss. When those don't work, sadly, many turn to alcohol, drugs, gambling, shopping, food, sex, unhealthy relationships, or busyness to numb feelings of emptiness and pain. And these things don't work either because they never truly satisfy.
Thankfully, the Bible gives us a fool-proof recipe for happiness in Proverbs 16:20. We are to listen to and obey God's Word, and trust Him as we carry out His commands in daily living. It's just that simple. Obedience and trust bring goodness to our lives and ultimately produce true happiness.
So it's back to the basics. John H. Sammis spelled it out for us in that wonderful old hymn "Trust and Obey":
"When we walk with the Lord in the light of His Word,
What a glory He sheds on our way!
While we do His good will, He abides with us still,
And with all who will trust and obey.
"Trust and obey, for there's no other way
To be happy in Jesus, but to trust and obey."
So the key to true happiness is trusting GOD, not trusting the universe, nor another person, nor yourself, nor any idol, but trusting GOD alone. After all, He's the One who created the world and everything in it, and everything beyond it. He created you! He knows you and He knows what's best for you and will bring you true contentment at any given moment in time.
Happiness rests on obedience, and obedience rests on trust for you will never heed the direction of someone in whom you do not have confidence. If you have trouble trusting the Lord, go through the Bible and study His various names. It will bless and reassure you to see Him as Elohim Shama: The God Who Hears, or Jehovah-Jireh: God My Provider. His many names reflect His unchanging, unfailing, totally trustworthy attributes.
PRAYER: Great Creator, I was formed and fashioned by You. You know me better than I know myself, so let me never forget that I can always trust You and obey Your will and therein find true happiness.
WORDS TO PONDER: "For a Christ follower, the measure of maturity is determined by the speed of obedience. The most mature Christ follower is not the person who has attended the most church events or accumulated the most information about Jesus, but rather the person whose heart is most transformed. And transformation is seen when a person hears God and responds with swift obedience."
–From The Big Idea: Focus the Message—Multiply the Impact, by Dave Ferguson, Jon Ferguson, and Eric Bramlett
RELATED DEVOTIONAL & HYMN:
By Ann Shorb
©Copyright, Ann Shorb, 2016
Scripture taken from the New King James Version. Copyright © 1982 by Thomas Nelson, Inc. Used by permission. All rights reserved.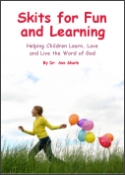 Skits for Fun and Learning
Skits for Fun and Learning is a collection of 15 puppet scripts and 5 articles on the subject of success with puppet ministries. The articles and scripts have been written by Dr. Ann Shorb and the book is available for purchase as a paperback, or as a PDF download.