II CORINTHIANS 12:9-10 (NKJV)
And He said to me, "My grace is sufficient for you, for My strength is made perfect in weakness." Therefore most gladly I will rather boast in my infirmities, that the power of Christ may rest upon me.  Therefore I take pleasure in infirmities, in reproaches, in needs, in persecutions, in distresses, for Christ's sake. For when I am weak, then I am strong.
Here is an interesting story about the renowned Polish pianist and composer Ignacy Jan Paderewski who enjoyed renown and fame during the late 1800's and early 1900's. His musical concerts were a favorite among Europeans and Americans because of his incredible talent and clever presentation.
When the house lights dimmed and Paderewski's concert was about to begin, a mother returned to her seat and discovered that her child was missing.

Suddenly, the curtains parted and spotlights focused on the impressive Steinway piano on stage. In horror, the mother saw her little boy sitting at the keyboard, innocently picking out his favorite song—"Twinkle,Twinkle, Little Star."

At that moment, the great piano master made his entrance, quickly moved to the piano, and whispered in the little boy's ear, "Don't quit. Keep playing."

Then, leaning over, Paderewski reached down with his left hand and began filling in a bass part. Soon his right arm reached around to the other side of the child, and he added a running obbligato. Together, the old master and the young novice transformed what could have been a frightening situation into a wonderfully creative experience.

The audience was so mesmerized that they couldn't recall what the great master played that evening–except the classic, "Twinkle, Twinkle, Little Star."
— (Original Author Unknown)
What a beautiful reminder of how much Jesus Christ, our Master, adds to the concert of our lives when we allow Him to come along side us and fill in the parts that we are unable to play. His music enables the weak, calms the worried, and gives rest to the weary. Truly His grace and His strength are made perfect in our weakness and we can boast in that.
Prayer: Lord, indeed You are the true Great Composer and Master Musician. Come next to me and play Your cords of love and grace in the melody of my life.
Words to Ponder: "Make my life to be, like a melody, ever sounding forth the message of the cross."
— Lt. Col. John Wells
By Ann Shorb
Copyright Ann Shorb, 2013
Scripture taken from the New King James Version. Copyright © 1982 by Thomas Nelson, Inc.  Used by permission.  All rights reserved.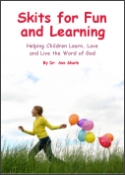 Skits for Fun and Learning
Skits for Fun and Learning is a collection of 15 puppet scripts and 5 articles on the subject of success with puppet ministries. The articles and scripts have been written by Dr. Ann Shorb and the book is available for purchase as a paperback, or as a PDF download.