PSALM 51:2 (NKJV)
Wash me thoroughly from my iniquity, And cleanse me from my sin.
As I sit here writing this morning, I'm enjoying a cup of Earl Grey tea—my favorite—in my new teacup. When I spotted it on the shelf at the thrift store, it was rather ugly. I debated about buying it because it was ordinary and certainly was not useable at that point. In fact, it was dirty and stained, but since it was only a $1.00, I decided to buy it, take it home and try to clean it up.
Imagine my surprise when I pulled the old cup and saucer from the dishwasher all clean and sparkling. It was beautiful! In a short time, that little teacup went from sitting on the shelf being disgusting and unusable, to being delightful and desirable. The dirt and stain were gone! It was no longer an ugly old piece, but something to be treasured and cherished. It was a clean vessel and very usable.
I couldn't help think of how God must feel when my life is spotted with sin and bad choices and I'm dirty and unusable for His purposes. Thankfully, He sees beyond my dirt and stain, and when I come to Him for forgiveness, He cleans me up and makes me sparkle again. I'm useable and desirable once more as a vessel fit for the Master's use to bless and help others, and to bring glory to Him.
There's an old, old hymn that reflects these thoughts beautifully. Let me share it with you.
How I praise Thee, precious Saviour,
That Thy love laid hold of me;
Thou hast saved and cleansed and filled me
That I might Thy channel be.
Chorus:
Channels only, blessed Master,
But with all Thy wondrous pow'r
Flowing thro' us, Thou canst use us
Ev'ry day and eve'ry hour.
Emptied that Thou shouldest fill me,
A clean vessel in Thy hand;
With no pow'r but as Thou givest
Graciously with each command.
Chorus
Witnessing Thy pow'r to save me,
Setting free from self and sin;
Thou who boughtest to possess me,
In Thy fullness, Lord, come in.
Chorus
Jesus, fill now with Thy Spirit
Hearts that full surrender know;
That the streams of living water
From our inner man may flow.
Chorus
–by Mary E. Maxwell, 20th century
Lord, I daily need Your cleansing to wash away all that will keep me from being useful in Your service. I don't want to sit on the shelf as an ugly old piece that others pass by. Let me sparkle with the beauty of Your love and serve You well each day.
By Ann Shorb
©Copyright Ann Shorb, 2012
Scripture taken from the New King James Version. Copyright © 1982 by Thomas Nelson, Inc.  Used by permission.  All rights reserved.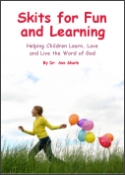 Skits for Fun and Learning
Skits for Fun and Learning is a collection of 15 puppet scripts and 5 articles on the subject of success with puppet ministries. The articles and scripts have been written by Dr. Ann Shorb and the book is available for purchase as a paperback, or as a PDF download.