PSALM 119:103-104
How sweet are Your words to my taste,
Sweeter than honey to my mouth!
Through Your precepts I get understanding;
Therefore I hate every false way. (NKJV)
When you've been married as long as we have, some things just wear out!  That's what's happening with our favorite old red and white checkered cookbook.  The pages are worn and it's time to replace it.  So when I saw one like it on sale, I grabbed it, grateful for the clean crisp pages and beautiful clean cover.
On the outside was printed, "NEW AND UPDATED."  Now, I'm not opposed to change, and anything that's going to make my life easier sounds good to me, but when I turned to our favorite pumpkin pie recipe, it wasn't the same.  It had been adapted for cooking with convenience in mind.  Instead of the measurements for cooking from scratch, the recipe said, "Use a 15-ounce can of pumpkin"  and we noticed that it was that way throughout the book.  So that's what "NEW AND UPDATED" means!" we exclaimed.
It seems like a lot of people are trying to do the same thing with some of God's recipes.  They're trying to adapt them to make them more convenient, more time saving and easier to follow.  The truth of the matter is that God's recipes never change.  For example,
The results of sin remain the same . . .
The wages of sin is death, but the gift of God is eternal life in Christ Jesus our Lord.
–Roman's 6:23
God's recipe for salvation hasn't changed since the beginning of time . . .
For by grace you have been saved through faith, and that not of yourselves; it is a gift of God, not of works, lest anyone should boast.
— Ephesians 2:8-10
His method of finding guidance is found the same place it always has been . . .
The law of the LORD is perfect, converting the soul;
The testimony of the LORD is sure, making wise the simple;
The statues of the LORD are right, rejoicing the heart;
The commandment of the LORD is pure, enlightening the eyes.
–Psalm 19:7-8

His solution for anger never fails. . .
Rest in the LORD, and wait patiently for Him;
Do not fret because of him who prospers in this way,
Because of the man who brings wicked schemes to pass.
Cease from anger, and forsake wrath; Do not fret—it only causes harm.
–Psalm 37:7-8

The ingredients for finding peace turn our focus toward Him . . .
Be anxious for nothing, but in everything by prayer and supplication, with thanksgiving, let your requests be made know to God; and the peace of God, which surpasses all understanding, will guard your hearts and minds through Christ Jesus.
–Philippians 4:6-7
So while my new cookbook is really helpful, I'm not throwing out the old one.  It's really the foundation for good cooking and there's just too much good stuff in it that I want to hang on to.  And while I'm at it, I'm going to keep living by God's original recipes.  Any attempt to alter them actually makes life more entangled and complicated.  "New and Improved" just isn't in God's recipe book, the Bible!
Gracious and Unchanging Father, thank You that we don't live by an ever changing set of rules, but that Your standard is set forever in Your Word.  Thank You that when we follow Your direction for godly living, we always have peace and joy of Your presence.
ByAnn Shorb
©Copyright Ann Shorb, 2009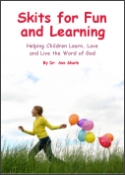 Skits for Fun and Learning
Skits for Fun and Learning is a collection of 15 puppet scripts and 5 articles on the subject of success with puppet ministries. The articles and scripts have been written by Dr. Ann Shorb and the book is available for purchase as a paperback, or as a PDF download.