LUKE 11:1
Now it came to pass, as He was praying in a certain place, when He ceased, that one of His disciples said to Him, Lord, teach us to pray, as John also taught his disciples.
–NKJV*
In Matthew 6 when Christ gave the famous Sermon on the Mount, and again in Luke 11 when the disciples asked Him to teach them how to pray, Christ gave a sample prayer for His believers to follow.  We often refer to it as The Lord's Prayer, yet truly it would be better named The Disciple's Prayer or The Believer's Prayer.

Our Father in Heaven, hallowed be Your name – Acknowledges to whom we pray.  These words express praise, worship and adoration to the God of Heaven, yet they speak of that special Father-child relationship that exists between Him and the believer.
Your kingdom come, Your will be done on earth as it is in Heaven – Reminds us that He is the supreme Ruler of all things, and expresses our submission to and trust in His will and desires.
Give us this day our daily bread – Shows our complete dependence on Him for even our most basic needs.  How sweet to know that we may approach the great Creator and ask Him for all things!  He isn't bothered or bewildered by our requests.
And forgive us our debts, as we forgive our debtors – Indicates that those who have already received His gift of forgiveness unto salvation, still need daily cleansing from sins (whether you use the word "debts" or "trespasses") that hinder our relationship with Him and with others.
And do not lead us into temptation, but deliver us from the evil one–Is a prayer for His help in overcoming sin and temptation.  Bible scholar J. Vernon McGee writes, A better translation here would be, Leave us not in temptation.  It does not mean to keep us out of it, but when we are in it, do not leave us there. (Through the Bible With J. Vernon McGee, Volume IV, Nashville, Thomas Nelson Publishers, 1983, page 38.)

For Yours is the kingdom and the power and the glory forever–Again acknowledges God's greatness and His control over all things.
This model prayer gives us direction for praying.  It's good for the veteran prayer warrior and for the new believer.  If you've never developed the habit of praying, The Lord's Prayer is a great place to start.  You can find it in Matthew 6:9-13 and Luke 11:2-4, and you may repeat it word for word, or use it as an example of what to pray using your own words.  Pray it when alone, or when you pray with your spouse or others.
Heavenly Father, help me to remember these truths when I pray this prayer.  Let me never say it routinely without truly meaning the words and the way that Jesus taught us to pray.
By Ann Shorb
©Copyright Ann Shorb, 2008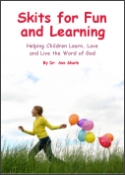 Skits for Fun and Learning
Skits for Fun and Learning is a collection of 15 puppet scripts and 5 articles on the subject of success with puppet ministries. The articles and scripts have been written by Dr. Ann Shorb and the book is available for purchase as a paperback, or as a PDF download.