JOHN 4:12:9-10 (NKJV)
Jesus answered her, "If you knew the gift of God, and who it is that is saying to you, 'Give me a drink,' you would have asked him, and he would have given you living water" . . . but whoever drinks of the water that I will give him will never be thirsty again. The water that I will give him will become in him a spring of water welling up to eternal life."  The woman said to him, "Sir, give me this water, so that I will not be thirsty or have to come here to draw water."
You see them in magazines and on TV often. You know, the classic make-over. On the left is a photo of a woman looking sad, plain, and unattractive. On the right is the photo showing how lovely she has become with a new hair style, new make-up, and new clothing. And, of course, she's smiling broadly because she's happy with the change in her life.
The Bible gives us a lovely picture of a woman who had a fantastic make-over. We usually refer to her as The Woman at the Well. Sometimes she's called The Woman of Sychar because that's the village where she lived, but we never call her by her name—because we don't even know her name. In reality, we know very little about this amazing woman who one day met Jesus in the middle of the day when she came to draw water from the town well. We have only one brief video clip into the life of this woman and it is found in John 4:6-39.
In these few verses, we see that she was an outcast of the outcasts, yet Christ spoke to her with respect and concern. He mentioned her past to get her attention, but he didn't focus on it. Instead, He focused on her present situation as one who needed a Savior.
This woman came to the well to fill her water jug, but Jesus filled her heart. She came . . .
thirsty and left satisfied,
ashamed but left assured,
with questions and left with answers,
in bondage to The Law that she could not keep, but left in freedom because of her faith in the Son of God.
In those moments with Christ, her life was completely made over. She, who avoided people, went straight into town proclaiming the Good News of the Messiah. Although Jesus changed the woman on the inside, surely the transformation was reflected on the outside as well–her face radiant with delight, her eyes sparkling with wonder, and her lips praising God as joy flowed from her heart—and many believe in Him. The make-over was complete because she met Jesus, and her life was a light for all to see.
Prayer: Lord Jesus, how amazing it is when You transform a life! Thank You for changing mine.
Words to Ponder: The Joy of the Lord is My Strength
He gives me living water and I thirst no more,
He gives me living water and I thirst no more.
He gives me living water and I thirst no more,
The joy of the Lord is my strength.
— Author Unknown,
By Ann Shorb
Copyright Ann Shorb, 2013
Scripture taken from the New King James Version. Copyright © 1982 by Thomas Nelson, Inc.  Used by permission.  All rights reserved.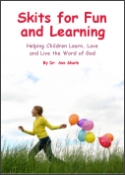 Skits for Fun and Learning
Skits for Fun and Learning is a collection of 15 puppet scripts and 5 articles on the subject of success with puppet ministries. The articles and scripts have been written by Dr. Ann Shorb and the book is available for purchase as a paperback, or as a PDF download.