PSALMS 69:13
But as for me, my prayer is unto Thee, O LORD, in an acceptable time: O God, in the multitude of Thy mercy hear me, in the truth of Thy salvation.
In the last few weeks I've talked to a lot of people, both in and out of my counseling office, who are going through really intense and difficult times.  It seems in every one of those conversations, at some point we've touched on the importance of taking all those concerns to God and seeking His wisdom, direction, and provision.  But should our prayers be reserved only for those times when things are rough?  Of course, not!
Andrew Murray, the great theologian of the 19th century said, Prayer is in very deed the pulse of the spiritual life.  If that's true, then prayer ought to be the first thing I do in the morning and the last thing I do at night!
In the little booklet, Two Hearts Praying As One, Dennis and Barbara Rainey name five reasons for praying.  Let me paraphrase them for you:
1.  Christ commanded us to pray.
2.  Prayer is the means through which we develop a relationship with God.
3.  Prayer is the avenue for confessing our sin and finding forgiveness.
4.  We receive answers and direction when we pray.
5.  Our burdens are lighter when we pray.
With all of these good reasons for praying, it seems that we have nothing to lose, and everything to gain by talking to our Heavenly Father.  Let's be mindful of the privilege that is ours to come to the Creator of the Universe and spend time with Him in prayer.
Almighty God, it amazes me that You wait for me to come to You with my requests and praises; and that You long to have a relationship with me.  Thank You for giving me the gift of open communication with You.
By Ann Shorb
©Copyright Ann Shorb, 2008
Two Hearts Praying as One

By Dennis & Barbara Rainey / Multnomah

The Raineys believe that "praying together may be the single most important spiritual discipline you and your spouse will ever share." Prayer is the surest means of safegaurding your marriage from divorce. This 30-day devotional features personal anecdotes and stories from their ministry, and includes practical advice and encouragement for those whose spouses do not share their faith. 96 pages, hardcover from Multnomah.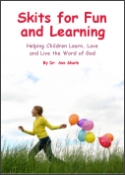 Skits for Fun and Learning
Skits for Fun and Learning is a collection of 15 puppet scripts and 5 articles on the subject of success with puppet ministries. The articles and scripts have been written by Dr. Ann Shorb and the book is available for purchase as a paperback, or as a PDF download.