I JOHN 1:7 (KJV)
If we walk in the light as He is in the light, we have fellowship with one another, and the blood of Jesus Christ His son cleanseth us from all sin.
Nearly every day I talk with people who struggle with painful friendships.  Betrayal, broken trust, abandonment, deceit, hatefulness, and hurtful words weigh down their heavy hearts.  They long for close, healthy friendships that will support, help, encourage and meet their god-given need for relationship.
The strongest foundation you can have for building healthy friendships is making sure that your own relationship with God is right.  When you are born again and have His Spirit living within you, then the good fruit of the Spirit begins to grow.  As you daily read His Word and seek to live in the light of what He teaches you, godly character naturally develops.  You learn to treat others with His love and grace.  Things like love, joy, peace, patience, kindness, goodness, faithfulness, gentleness, and self-control are evident in your life, and these are all conducive to satisfying relationships.
If I walk in God's light and you walk in His light as well, then it is impossible for us not to have a healthy friendship!  We automatically have things in common.  Our overall goals and values will be in harmony with each other.  Our relationship will not be destroyed by pride, anger, hurt, unkindness or jealousy.  We'll confront when necessary, speak the truth in love, and leave past hurts and frustrations at the cross of Christ.
Walking in His light and living His way doesn't guarantee that others will do the same, however, but at least you know you are doing right and that you bring to the friendship ingredients for growth and harmony.  Remember you are only responsible for your part in the relationship not the other person's.  You can only control your thoughts, feelings and actions, no one else's.
For and interesting study, take a look at 1 Corinthians 13 considering this to be an instruction manual for developing healthy relationships.  Think about each of the characteristics of love described in that passage and see how it applies to starting and growing a satisfying, lasting friendship.
Lord Jesus, thank You for being my Friend and for blessing me with other friends as well.  Help me to be a faithful friend to You and to those you've placed beside me.
By Ann Shorb
© Ann Shorb 2010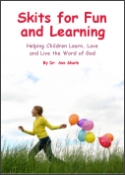 Skits for Fun and Learning
Skits for Fun and Learning is a collection of 15 puppet scripts and 5 articles on the subject of success with puppet ministries. The articles and scripts have been written by Dr. Ann Shorb and the book is available for purchase as a paperback, or as a PDF download.