ACTS 7:50 (KJV)
"Hath not my hand made all these things?"
The evening of July 4th was warm and relaxing. There was still some daylight left when I said my goodbyes to my family, so I decided to take the country roads and enjoy the scenery as I drove the almost twenty-mile trek to my home.
The nearly-nighttime sky was aglow with the sparkle and glitter of Independence Day fireworks. Red, blue, green, white, yellow—beautiful and breath-taking, they lit up the sky. From to village to village, and town to town, each little community had it s own exhibit. Once that display was out of sight, another came into my view as I traveled.
What I hadn't anticipated was the spectacular light show produced by flickering little fireflies. Hundreds of them along the roads and in the fields lit up the night without a spark or the touch of a human hand. It was amazing! Intermittently flashing, these tiny little wonders produced God's own holiday show.
If you want to be astonished, type "How do fireflies light up?" into your Internet browser and read the scientific answers to that question. The chemical process of bioluminescence that takes place inside that little creature's body is incredible! To me, the seemingly simple little firefly is an everyday miracle produced by the hand of a loving God and almighty Creator. How it thrills His heart to give us spectacular little gifts and every day miracles. Let's take time to notice them and remember to praise Him for each one that we see today.
PRAYER: Almighty God, I'm amazed at the incredible little firefly who doesn't need a holiday or a special occasion to show off his uniqueness or Your greatness. He's a wonderful gift! Thank You!
WORDS TO PONDER:
"Nature is the art of God."
–Thomas Brown
By Ann Shorb
Copyright Ann Shorb, 2014
Scripture taken from the King James Version of The Holy Bible.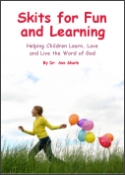 Skits for Fun and Learning
Skits for Fun and Learning is a collection of 15 puppet scripts and 5 articles on the subject of success with puppet ministries. The articles and scripts have been written by Dr. Ann Shorb and the book is available for purchase as a paperback, or as a PDF download.