I CORINTHIANS 15:51-53 (NKJV)
Behold, I tell you a mystery: We shall not all sleep, but we shall all be changed— in a moment, in the twinkling of an eye, at the last trumpet. For the trumpet will sound, and the dead will be raised incorruptible, and we shall be changed. For this corruptible must put on incorruption, and this mortal must put on immortality.
BEEP! BEEP! BEEP! Loud and long the buzzer sounded early Tuesday morning. Being new to this building, I wasn't exactly sure what it was so I poked my head into the hallway and saw the flashing lights of the fire alarm.
"The building's on fire!" I thought. I knew I needed to exit but, not wanting to appear in public in my p.j.s, I jumped into the slacks and sweater I dropped in the dirty clothes basket the night before. I threw on my coat, grabbed my Bible from the table, and in one swoop picked up my keys, purse and cell phone. I had the essentials. What else should I take with me? "No time! Just get out of the building," I thought.
Thankfully there was no fire. It seems the men working on the heating system accidently tripped the fire alarm, sending all the residents into a panic. In a matter of minutes, we returned to our homes with a sigh of relief and grateful hearts, but it made me think.
Overall, I left my condo quickly once I heard the fire alarm, but not instantly. One day Christ will return and in the twinkling of an eye–an instant– we will be caught up in the air to be with Him. There won't be time to slip on some righteousness as I prepare to meet my God. No time to hide His Word in my heart or say another prayer. Not a moment to reach out to a soul in despair and bring him along.
Although it was an early morning inconvenience (and those of you who know me know that I consider most things inconvenient in the morning!), I'm thankful for the fire alarm mishap. It reminded me of how quickly Christ will come and how suddenly my time will be up. If I truly want to be ready for that moment, I have to prepare ahead of time. I can't wait until the last minute to make things right and fulfill God's purpose for my life. I have to make intentional choices and take deliberate action right now. Today is the day. Now is the time.
Father in Heaven, help me to live always preparing for the moment when I hear Your trumpet sound and I rise to be with You.
By Ann Shorb
©Copyright Ann Shorb, 2011,
Scripture taken from the New King James Version. Copyright © 1982 by Thomas Nelson, Inc.  Used by permission.  All rights reserved.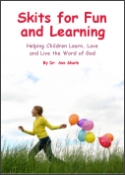 Skits for Fun and Learning
Skits for Fun and Learning is a collection of 15 puppet scripts and 5 articles on the subject of success with puppet ministries. The articles and scripts have been written by Dr. Ann Shorb and the book is available for purchase as a paperback, or as a PDF download.