1 Timothy 6:12 (NKJV)
Fight the good fight of faith . . .
Last weekend we celebrated Christ's resurrection—and it wasn't just in church on Sunday. In the restaurant, the grocery store, and even the hospital gift shop, I was thrilled to hear people throughout the weekend freely wishing one another, "Happy Easter!" One dear employee at the bank (because she knew me) said, "Happy Resurrection Day!" How exciting to hear people so boldly announcing their faith and proclaiming Christ's victory!
Sadly, when Monday came, the celebration was over and it was back to everyday living. I didn't hear anyone speaking out for the Lord in those places. Instead, conversation turned to frustrations, worries, and trivial matters of the day.
As Christians, we live in a war zone. Satan's army and the forces of this world fight relentlessly against the values and victories of our faith. We must not remain silent nor sedentary.
British author and preacher Charles Haddon Spurgeon (1834 – 1892) even in his day battled against those who strove to deny and defame Christianity. This "Prince of Preachers" challenged believers to fight courageously for truth and righteousness. In one of his many powerful sermons he said:
Hark to the shouts of war! Now let the people of God stand fast in their ranks, and let no man's heart fail him . . . We greatly want a bold voice and a strong hand to preach and publish the old gospel for which martyrs bled and confessors died . . . Now, by the lilies of Christian purity, and by the roses of the Saviour's atonement, by the roes and by the hinds of the field, we charge you who are lovers of Jesus, to do valiantly in the Holy War, for truth and righteousness, for the kingdom and crown jewels of your Master. Onward! "for the battle is not yours but God's."
As believers, we need to be willing to live each day for the living Christ we celebrated at Easter. Let us be bold in sharing our witness, and strong in our determination to live righteously. Let us live courageously so that we may say with the Apostle Paul, "I have fought the good fight, I have finished the race, I have kept the faith," (2 Timothy 4:7 NKJV).
Prayer: Heavenly Father, give me courage to stand for You, for Your Word, and for Your will. Grant me strength and boldness in this godless world, that Your name may be praised and Your glory manifested through my life.
Words to Ponder:
Stand up, stand up for Jesus,
The trumpet call obey:
Forth to the mighty conflict,
In this His glorious day.
"Ye that are men, now serve Him,"
Against unnumbered foes;
Let courage rise with danger,
And strength to strength oppose.
–George Duffield, 1818-1888
Read THE FIGHT OF FAITH – PART 2
By Ann Shorb
©Copyright, Ann Shorb, 2014
Scripture taken from the New King James Version. Copyright © 1982 by Thomas Nelson, Inc.  Used by permission.  All rights reserved.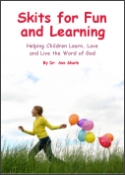 Skits for Fun and Learning
Skits for Fun and Learning is a collection of 15 puppet scripts and 5 articles on the subject of success with puppet ministries. The articles and scripts have been written by Dr. Ann Shorb and the book is available for purchase as a paperback, or as a PDF download.