Philippians 3:13
. . . forgetting those things which are behind, and reaching forth unto those which are before, I press toward the mark for the prize of the high calling of God in Christ Jesus.
Acts 9 records for us the miraculous conversion of the apostle Paul, then called Saul. Many words may be used to describe this man as he zealously held to the traditions of the Jewish faith that he had learned from childhood. He was determined to preserve its traditions and to squelch anything that threatened it. He was 100% committed to his cause, relentless in his persuasion, energetic and aggressive, but he was on the wrong course!
The Lord demonstrated the greatness of His power and mercy when he appeared to Saul on the road to Damascus. Once on his way to persecute and destroy the newly formed Church of Jesus Christ, Saul was stopped suddenly by a bright light and a voice from Heaven. Immediately recognizing the Lord, Saul confessed Him to be the lord of salvation by asking, "Who are you, Lord?" Without hesitation he then confessed Jesus as lord of his life, consecrating himself to His service when he asked, "Lord, what will you have me to do?" In obedience Saul went on to Damascus a changed man, committed to serving Jesus Christ.
The reality of Saul's meeting with Christ was evidenced by a complete change in his intellect, will and emotion. His desire to persecute became a desire to promote the Church and to pray for it. Both before and after his conversion, Saul was an example of total commitment to what he believed in, but the object of his commitment changed. Everyone who knew him saw the evidence of that change. He lived the rest of his life forgetting his past and pressing on in faith and commitment to the One who loved and saved him.
Lord Jesus, let me be committed to you 100% and help me live my life in such a way that everyone who sees me sees the evidence of what Your love and mercy have done in my life.
By Ann Shorb
Copyright Ann Shorb, 2007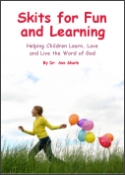 Skits for Fun and Learning
Skits for Fun and Learning is a collection of 15 puppet scripts and 5 articles on the subject of success with puppet ministries. The articles and scripts have been written by Dr. Ann Shorb and the book is available for purchase as a paperback, or as a PDF download.