PSALM 78
I will open my mouth in a parable; I will utter dark sayings from of old . . . We will not hide them from their children, but tell to the coming generation the glorious deeds of the LORD, and His might, and the wonders that He has done . . . which He commanded our fathers to teach to their children, that the next generation might know them, the children yet unborn, and arise and tell them to their children, so that they should set their hope in God and not forget the works of God, but keep His commandments. *(ESV)
As I picked a couple of loose coins out of the bottom of the washing machine, my mind raced back to the years when our children were young. There was a cup in the laundry room and every time I found loose coins in the laundry or on the floor, I'd drop them in the cup. Over time, we gathered quite a stash of change.
Now missions and giving to help others was a way of life in our home. After all, we were missionaries and were used to sacrificing to help others; still, I was surprised one day when I announced that I counted the money from the cup and discovered there was enough for all of us to go out for ice cream. Without a blink of an eye my kids responded, "Why would we do that? The people in Haiti need it more than we need ice cream. Let's give it to them!"
Humbled by their attitude, I agreed that was a great idea, so we put the money where it really went to good use.
The thing that amazed me most about that day was the joy and enthusiasm in their words. It seemed so natural for them to give unselfishly and never give it a second thought. It thrills me to know that today as adults they're still concerned about others and still giving freely to missions. It's amazing isn't it how much children learn when we don't even know they're watching!
Father, it humbles me to think that as parents we have such a profound influence on shaping the minds and attitudes of our children. I pray for Christian parents everywhere to be faithful in living for You in both big ways and small ways. The future of the next generation depends on it.
By Ann Shorb
© Copyright Ann Shorb, 2009
*"Scripture quotations are from The Holy Bible, English Standard Version, copyright (c) 2001 by Crossway Bibles, a division of Good News Publishers. Used by permission. All rights reserved."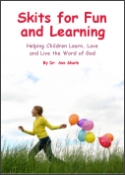 Skits for Fun and Learning
Skits for Fun and Learning is a collection of 15 puppet scripts and 5 articles on the subject of success with puppet ministries. The articles and scripts have been written by Dr. Ann Shorb and the book is available for purchase as a paperback, or as a PDF download.