I PETER 5:5-7 (NKJV)
Likewise you younger people, submit yourselves to your elders. Yes, all of you be submissive to one another, and be clothed with humility, for "God resists the proud, but gives grace to the humble." Therefore humble yourselves under the mighty hand of God, that He may exalt you in due time, casting all your care upon Him, for He cares for you.
Watching the little child play with his dad and the Frisbee was interesting. The boy grabbed the toy and gave it a fling. It flew, but not too far, so he ran to get it and tried again and again. Finally he ran to his dad and shouted, "You throw it, Dad!" And with the strength of a man, the father gave the little round disc a fling and this time it seemed to glide through the air forever. The child giggled with delight as he chased his toy and then came running back toward his dad.
"Do it again, Dad, please," he squealed as he tossed the Frisbee to his dad."
Once more the father flung the disc in a way that was beyond his son's ability to do and sailed it smoothly across the field.
What a perfect picture of humility! Here was a little child recognizing his own limitations and weaknesses, then turning to the one whose strength and skill could make things happen in a much better way. With glee, the boy stood back watching what the father could do. There was no jealousy, no resentment, no intimidation on the boy's part, just sheer delight as he watched his dad perform.
The apostle Paul told us that humility is the attitude in which we are to cast our burdens on the Lord. So like the little child, we are to focus not on our own inadequacies, but on the mighty hand of God. With assurance and joy we can toss all those hard things over to our loving heavenly Father, then stand back and squeal with delight as He works in ways far beyond our own ability. With thankfulness and appreciation we can run to Him over and over and over again saying, "Do it again, Father, please. Do it again!" And He will delight to do what we cannot do for ourselves.
Blessed Father, it's such a joy to know that You are always ready to help me with my burdens if I just toss them Your way. Help me to recognize my own limitations and rely on Your strength instead.
©Copyright Ann Shorb, 2011,
Scripture taken from the New King James Version. Copyright © 1982 by Thomas Nelson, Inc.  Used by permission.  All rights reserved.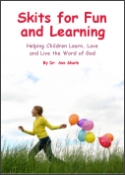 Skits for Fun and Learning
Skits for Fun and Learning is a collection of 15 puppet scripts and 5 articles on the subject of success with puppet ministries. The articles and scripts have been written by Dr. Ann Shorb and the book is available for purchase as a paperback, or as a PDF download.