Psalm 119:105 (NKJV)
Your word is a lamp to my feet
And a light to my path.
The last time I typed "January 16" at the top of one of our devotionals it was the first Sunday in January 2006, and I was writing the first edition of "A Light for My Path". That was ten years ago! That's a long time, yet it seems like only days since we sent that first devotional to the 22 people who were on our mailing list then.
It was my son Marc who urged me to start this project as a ministry of Christian Counseling & Educational Services. I'd do the writing and he'd do the publishing. So after praying about it, I took the first step in what I believed God wanted us to do, and put together our first edition. I never dreamed we'd still be doing it a decade later!
When it comes to serving the Lord, all it really takes is being willing to take that first step. Often that's the hardest one to take, but if He prompts you to do something, just do it. Take the first step and let Him be responsible for how He uses it. You don't have to know His entire plan, where it will lead, or how long you'll be doing it. If you make the first move, God will light the rest of the way before you one step at a time.
I've read that in Old Testament days, when people walked outside at night they wore a very small oil lamp made of clay strapped around each foot. With every step, the light on top of that foot illuminated the path directly ahead of them so they had just enough light to take the next step. That's what the Psalmist was referring to when he said to the Lord, "Your word is a light to my feet and a lamp to my path."
If you feel the Lord prompting you to get involved in a new ministry or activity, be courageous! Pray about it and let Him light the path before you one step at a time. You'll be blessed with every move you make as you follow His leading. I know I certainly have been!
PRAYER: Dear Lord, Thank You for the opportunity to share "A Light for My Path" with friends each week. Thank You, too, for Marc's encouragement and help. I couldn't have done it without either one of you!
WORDS TO PONDER:
"A turtle only makes progress when he sticks his neck out."
–Unknown
RELATED DEVOTIONALS & ARTICLES:
— By Ann Shorb
©Copyright, Ann Shorb, 2016
Scripture taken from the New King James Version. Copyright © 1982 by Thomas Nelson, Inc.  Used by permission.  All rights reserved.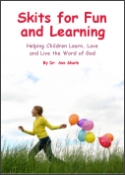 Skits for Fun and Learning
Skits for Fun and Learning is a collection of 15 puppet scripts and 5 articles on the subject of success with puppet ministries. The articles and scripts have been written by Dr. Ann Shorb and the book is available for purchase as a paperback, or as a PDF download.