COLOSSIANS 3:16 (KJV)
Let the word of God dwell in you richly in all wisdom, teaching and admonishing one another in psalms, hymns and spiritual songs, singing with grace in your hearts to the Lord.
One of the most popular and effective methods of teaching children is through the use of songs and choruses. E. E. Hewitt (1851-1920) knew this well—so well, in fact, that she spent much of her life writing lyrics, and often composing music for children's ministries.
She often took stories or other truths from the Bible and put them in rhyming form to capture youngsters' attention. The little song below was included in the Dew Drops Hymnal for young children which was published in 1895 by William J. Kirkpatrick. He wrote the music for this chorus and many of E. E. Hewitt's other songs.
THE TWO MITES
A certain poor widow in Zion one day,
Went up to the beautiful Temple to pray;
A gift of affection she gratefully brought
To honor our Father, whose blessing she sought.
Chorus:
Give, give, ev'ry one give
Whatever we can let us cheerfully bring;
Give, give, ev'ry one give
Some off'ring of love to Jesus our King.
No money had she but those two little mites,
But 'tis in the lowly His mercy delight;
The best she can offer she would not withhold,
Tho' others were bringing their silver and gold.
Chorus
But there by the treasury Jesus she found,
His holy eyes watching the people around;
Like dewdrops of blessing His worlds gently fall,
The widow's small off'ring is worth more than all.
Chorus
For Jesus is watching the treasury still;
He knows all we're doing for good and for ill;
The mites of the children, if given in love,
Will gain sweet approval, His smile from above.
Chorus
The biblical truths presented in E. E. Hewitt's songs were simple yet profound. You can be certain that long after they left the children's Sunday School department, many of the children she taught through music remembered them for years to come.
If you had the privilege of attending church when you were young, take a few moments to think back to the songs and principles you learned and how they blessed and guided you over the years. There's a good chance it will bring a smile to your face and put that song in your heart once again!
PRAYER: Thank You, Heavenly Father, for talented writers who used their gifts to give us songs that teach us about You and Your Word. Thank You, too, for teachers who faithfully taught us and gave us the gift of learning through music.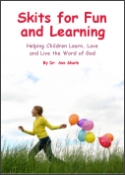 Skits for Fun and Learning
Skits for Fun and Learning is a collection of 15 puppet scripts and 5 articles on the subject of success with puppet ministries. The articles and scripts have been written by Dr. Ann Shorb and the book is available for purchase as a paperback, or as a PDF download.